Lucy: "They give the opportunity to discover new skills and experiences…"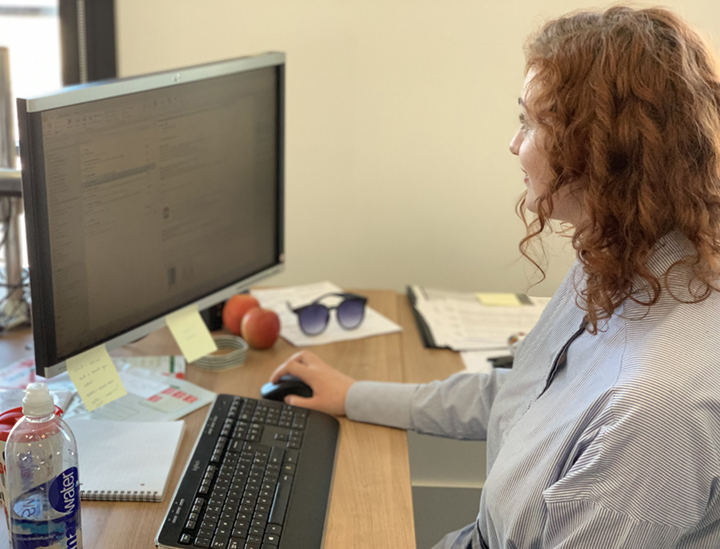 Estimated Reading Time:
4
minutes
24 year old Lucy Clark is currently undertaking a Level 3 Business Administration apprenticeship as part of Metro Mayor Steve Rotheram's office administration team.
Having joined the team in September 2017, shortly after the Metro Mayor was elected, Lucy is on hand to share her apprenticeship experience so far…
"I finished my first Level 2 Business Administration apprenticeship in September 2018 after which a post became available for an office administration role which I applied for. One of the conditions of the role was to undertake the Level 3 Business Administration."
Having successfully gained A-Level qualifications as well as a degree in philosophy, what advice and guidance had Lucy received with regards to apprenticeships?
"I had heard of apprenticeships but that was the extent of it really, we were led towards university more than anything. Apprenticeships weren't really understood and were considered to be more for those looking for more manual occupations such as engineering etc. I didn't know they could be applied to office roles or for any age. I had previously completed my A-Levels and had been to university to study philosophy and whilst I enjoyed the course I came away from university not knowing what I wanted to do or be, having been in education for so long."
Having found the original apprenticeship whilst searching online, what did friends and family think of the decision to become an apprentice?
"My parents were very supportive as it was an opportunity to further my skills as well as being a full-time job. When I told them it was in the new Metro Mayor's office they were really impressed, especially with the skills and experience it would provide me with."
Currently working towards what will be Lucy's second apprenticeship qualification, has her perception of apprenticeships changed in any way at all?
It's given me a valuable personal insight into apprenticeships.
"It has really highlighted that anyone of any age or level can benefit from an apprenticeship. Not only the skills and knowledge gained but also the practicalities that it brings with being so hands on. I think having been to university you learn about something from a theoretical perspective but with the apprenticeship you are actually doing it and are hands on. The modules in my qualification actually relate to my everyday role. I didn't realise how much goes into running an office until having worked here!"
Which aspect of the apprenticeship is it that Lucy enjoys the most?
"I love working in the office that I am working in, it's a really nice team of people and everyone is so supportive and that has given me a lot more confidence compared to when I started back in 2017, I especially enjoy learning how to do new things and picking up new skills. I spent some time shadowing the communications team and got to see how much goes into setting up events such as media interviews with the Mayor. I never realised how much planning goes into each event!"
What's next for Lucy once the Level 3 qualification has been completed?
"I'm not sure which area I would like to progress into. I like the confidence and skills that I have gained and feel they will be beneficial for any job that I do in the future."
What advice can Lucy offer for those exploring the apprenticeship route?
"I would say definitely consider apprenticeships. They give the opportunity to discover new skills and experiences. Even at the end of it, if it's not for you, you will leave with a recognised qualification as well as getting paid at the same time."