COULD YOU BE A FAMILY SOLICITOR?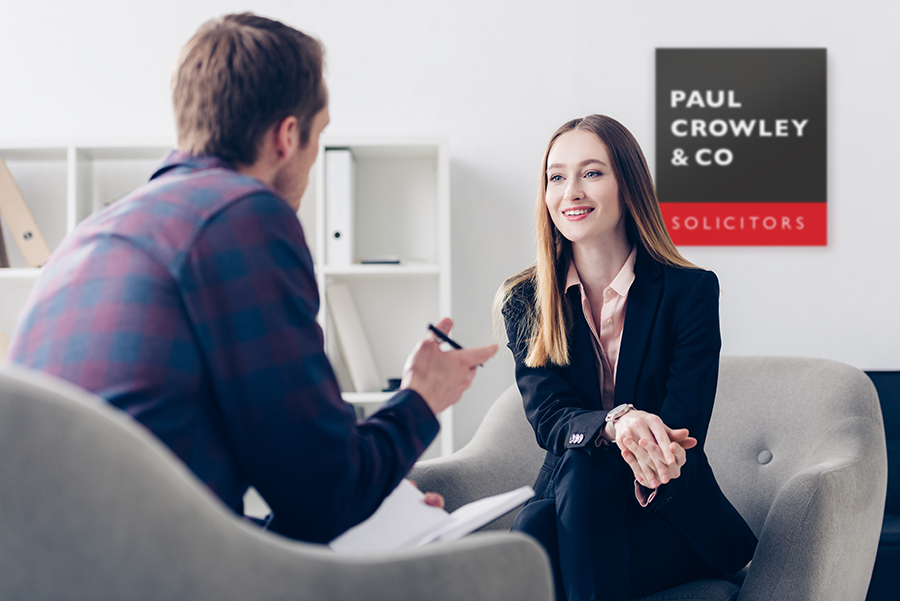 June 20, 2023
Add to Bookmarks
We take a look at a career as a Family Solicitor…
Estimated Reading Time:
6
minutes
We take a look at a career as a Family Solicitor. We talk to Becky Brown, HR Advisor at Paul Crowley & Co Solicitors, about all things family law. We explore the different roles in a family law department, how to qualify as a Family Solicitor and the current need for experienced Family Solicitors.
Paul Crowley & Co are an established leading solicitors in the Liverpool City Region, formed in 1991 they are a family firm that looks after people rather than businesses. They have expert solicitors that work in criminal law, conveyancing, personal injury and more. So, they are the type of solicitors that can help you: prepare a will; produce contracts when you buying or selling a house or assist you if you have been arrested. One of their busiest and largest departments is family law.
Becky is responsible for recruiting future talent and helping them develop their career within the business. We asked her what family law is and what qualities a solicitor requires to be successful at family law?
"Family law is a broad area that covers three main areas, matrimonial, child law and financial matters. When a relationship breaks down a family lawyer will assist their client with a number of legal issues including divorce settlements, child arrangements, cohabitation agreements and childcare proceedings. A family solicitor will also deal with cases of domestic abuse, guardianship, child abuse and neglect. The work is diverse, no two days are the same so if you like variety then family law is something you should have a good look at," explains Becky.
"When it comes to the qualities required to be a successful Family Law solicitor, a passion for law and to see people treated fairly is a prerequisite. Often you will be dealing with vulnerable people at very stressful times in their lives, therefore it is important to actively listen to your client and to have empathy to their situation so that you are fully able to understand how they feel. So, a great Family Solicitor is friendly, supportive, understands their clients' issues and guides them through the legal process. Naturally, they understand the law and as each case is different, they will aim to develop a successful strategy to achieve the clients' desired outcomes," reveals Becky.
As a Family Solicitor, you'll find yourself negotiating out of court settlements, however if an agreement cannot be reached you will prepare your clients evidence and provide legal representation in court. This is usually a County Court, but for complex cases you may be in the Family division of the High Court.
"In preparing for court you will be involved with a range of people. They range from a close internal legal team, that will help with administration, through to a wide range of external professionals including Police Officers, Doctors, Psychologists and Social Workers. These professionals will be providing evidence surrounding cases, so successful Family Solicitors are also very organised and analytical, looking at the evidence and developing a clear legal argument to take to court," adds Becky.
Becky is keen to point out that a career in family law can be very rewarding. "Talk to any of our Family Solicitors and they will tell you that they love their job because it brings a great deal of personal satisfaction knowing you have helped someone at a time of need. They spend time a great deal of time with their clients, particularly when a case is complex, because client care is high on the agenda."
So how do you become a Family Solicitor? "There are several routes," Becky tells us. "The first step is to study for a degree. It does not have to be a law degree, but a degree in law gives you a broad understanding of the law from which you can then specialise. You should not only look at traditional routes, but consider degree apprenticeships too. Have a look at a solicitor apprenticeship. Following this there are 2 routes to becoming a solicitor. The Solicitors Qualifying Exam (SQE) route involves SQE preparation courses and assessments, followed by two years' work experience. You can then apply to the Solicitors Regulation Authority (SRA) to be admitted as a solicitor. An alternative route is taking the Legal Practice Course (LPC) and completing a training contract within a law firm following your degree. However, this route is coming to an end and transitioning fully to the SQE route by the end of 2032," explains Becky.
There is high demand for experienced Family Solicitors. Paul Crowley & Co have a commitment to building a healthy talent pipeline by recruiting talented individuals who they can train and develop internally to flourish within the business. "Currently our team has a great mix of talent, because we are keen to see them progress, we invest heavily in their development, which pays dividends in staff retention long after they have qualified. Often, newly qualified solicitors might initially be drawn to the big corporates, however they should not overlook the established smaller firms where they may value more of a family and traditional environment. This is usually the dream working culture, that's why we have employees that have been with us for 30 years. It's a unique blend of experience and mentoring working together. Our latest intake, who has benefitted immensely from the experience of working within a close-knit team, is Frankie. She has been with our Family department for 12 months and has recently qualified.
Alongside our training programme, excellent opportunities exist in our expanding department for experienced family solicitors who would like to join us and take the next step up in their legal career. I think there will always be a demand for Family Solicitors, so it's a good career choice," suggests Becky.
Once you are employed by a solicitors then you can expect to grow within your profession. "We currently have two employees on training contracts and will take two more this year from our internal team of paralegals. These are the team providing administration support to our solicitors. It's good to upskill people within the organisation and we typically use apprenticeships to achieve this. At present we have five paralegal apprentices and one conveyancing technician apprentice. In addition, we support the legal team with webinars and other CPD training to keep them current. We also have employees on Police Station Accreditation courses that train them on the latest in representing clients being held in a Police Station," concludes Becky.
If you would like to find out more about being a Family Solicitor then speak with your career advisor. If you are an experienced Family Solicitor and are currently looking for an opportunity to advance your legal career then Paul Crowley & Co Solicitors would love to hear from you.
https://www.law.ac.uk/study/postgraduate/sqe/
https://www.instituteforapprenticeships.org/apprenticeship-standards/solicitor-v1-0
https://www.sra.org.uk/become-solicitor/legal-practice-course-route/lpc/