HAVE YOU EVER THOUGHT ABOUT BEING A FIREFIGHTER?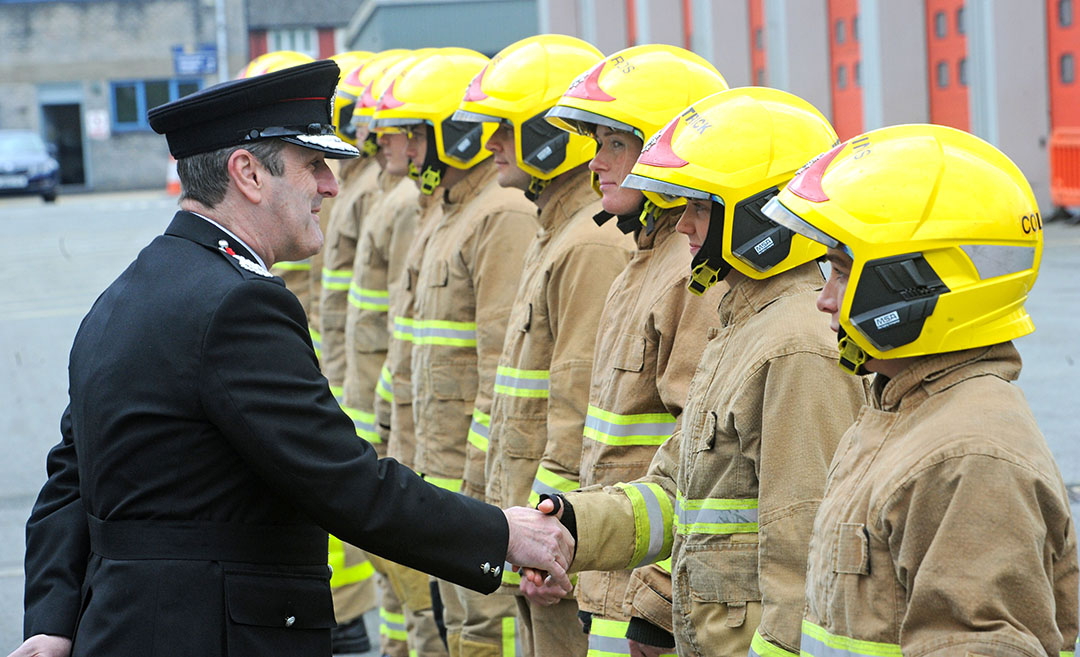 October 31, 2022
Add to Bookmarks
It's not all about running into burning buildings and cutting people out of cars…
Estimated Reading Time:
4
minutes
If you're looking for a very practical job with a great sense of personal achievement and good opportunities to climb the ladder, have you thought about being a firefighter?  It's not all about running into burning buildings and cutting people out of cars. It's a rewarding profession that helps save lives and is respected by the public. We talk to Merseyside Fire & Rescue Service about what's involved in being an Operational Firefighter in the Liverpool City Region.
Winter is traditionally when Merseyside Fire & Rescue Service recruit their future firefighters. Over 2,000 people apply, this is shortlisted to around 350. As you can imagine, you need to be fit to be a firefighter. So, the next stage in the recruitment process is a fitness test. This includes: ladder climb; confined space; casualty evacuation and equipment carry; ladder lift; equipment assembly; lateral pull down; shoulder press and treadmill tests. You can see all the tests here. They are accurate for January 2022, but could change in the future.
What are Merseyside Fire and Rescue Service looking for in their future firefighters? The practical skills are things that their training programme will help you develop. It's your outlook on life and your personality that is of most interest when they are recruiting fresh talent. Don't be afraid at interview to talk about experiences that show them your personality, this is what they are looking for.
Firefighters work as a team and need to rely upon each other when the going gets tough. Getting people out of burning buildings could see you in a team with breathing apparatus on searching for people. You want to know you've got their back and they've got yours. So, the first quality you need is integrity. Being open, honest and fair is at the heart of this. They are looking for people that do the right thing, even when it's hard or nobody is looking. They want people who can stand up for what matters consistently. They need their firefighters to be able to make decisions based on facts and explain why. They need firefighters that will do what they say they'll do. This is important for saving lives in an emergency as part of a team.
Compassion is an important quality for firefighters. The role is not just about putting out a fire, but preventing one. You may find yourself helping vulnerable people in the community to understand how important having smoke detectors or carbon monoxide alarms in their house are. They are looking for someone who has empathy and kindness, who knows how to listen and hear what is being said. They are looking for someone who will go the extra mile and support each other, helping to create a sense of belonging.
The third important characteristic is courage. This is not just having the courage to see things through and tackle fires. It's about the courage to challenge yourself, being decisive under pressure and being ready to fail. It's also about setting high standards, being open to new challenges and celebrating diversity.
You may think that most firefighters are men, but Merseyside Fire & Rescue Service has the second largest number of female firefighters in the country. Jemma Hughes, aged 26, is in the process of completing her training. She recalls the recruitment process: "It wasn't an easy process, and my fitness and agility were tested throughout. I remember being the only woman on the assessment day."
Jemma completed her recruit training – along with 19 others – in January 2022 and is now completing her Level 3 Operational Firefighter apprenticeship whilst serving the communities of Merseyside on one of MFRS' 23 fire stations. Jemma says no two days are the same and in just one week, she dealt with grass fires, a car crash and a hotel fire. Getting to work at one of the busiest stations in the area has been a great learning experience and enabled her to get lots of support from other colleagues.
Once qualified as an operational firefighter, you can choose to pursue specialist roles ranging from emergency driver to water rescue. Your career path is supported every step of the way, with training and development mapped out to help you reach your goals. Whilst the majority of training is carried out in-house, Merseyside Fire & Rescue Service also works with accredited bodies including City & Guilds, CMI and the Fire Service College to ensure that instructors also continue to develop their skills. Merseyside Fire & Rescue Service will always seek to be the best it can be in all areas.
For more information about apprenticeships and careers at Merseyside Fire & Rescue Service, head to www.merseyfire.gov.uk or Search @MerseyFireCareers on Facebook and @MerseyFireJobs on Twitter.
https://www.merseyfire.gov.uk/careers/roles/firefighter/firefighter-functional-fitness-tests/