TAKE A LOOK AT THE MARITIME SECTOR FOR SOME GREAT OPPORTUNITIES IN 2023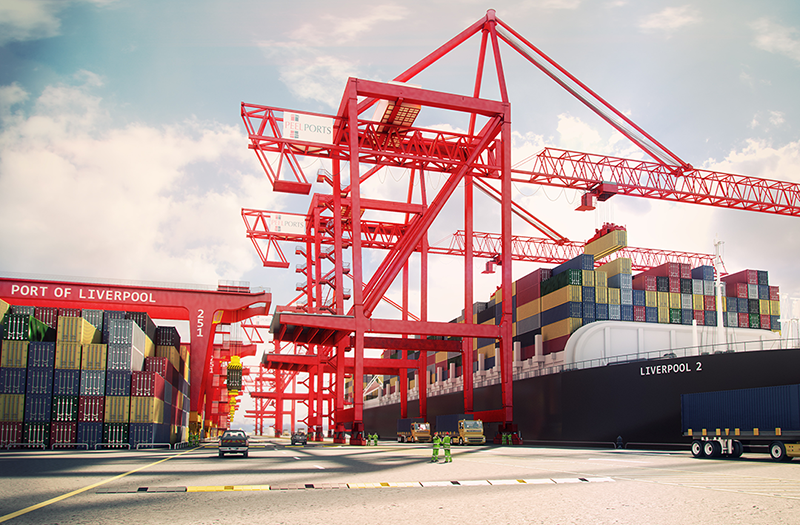 January 16, 2023
Add to Bookmarks
You don't even have to get your feet wet to be in the maritime sector…
Estimated Reading Time:
5
minutes
When it comes to looking at a career have you thought about the opportunities in the maritime industry? You don't have to be a sailor or a diver or join the Royal Navy. In fact, you don't even have to get your feet wet to be in the maritime sector.
Today only 25% of the jobs in this sector are on the water. So, if you haven't had a look at the career opportunities in maritime because you get sea sick, then this article is for you.
The Liverpool City Region (LCR) has a long history in the Maritime industry. In fact, the original growth of the city was due to its innovative ports.
The UK Maritime industry is huge in the UK. It makes sure you get goods from overseas, cruise ships take people on holidays, fishing provides us with food. It generates green energy and much more. This exciting sector is expected to double in size by 2030. It is modernising rapidly, and that means new job opportunities in addition to the traditional ones.
The Liverpool City Region is going to play a significant role in the expansion of this sector as it will become a Freeport.
What's that? I hear you ask.
Freeports aim to create economic activity near shipping ports or airports. Goods imported into freeports from abroad are exempt from taxes that are normally paid to the UK government on arrival. This means people use them to store expensive goods such as fine art avoiding both sales and use tax.
The LCR Freeport will be large covering 300 hectares of land. It will include multiple locations and will stretch out as far as Port Salford at the far end of the Manchester Ship Canal. There will be three tax sites and customs zones across all modes of transport, rail, road, sea and air, linking to the primary customs zone at the Port of Liverpool. The LCR Freeport Director, John Lucy, estimates that within ten years of going live Liverpool City Region Freeport has the potential to condense 20 years of growth into five years with the creation of 10,600 new jobs. He also predicts that it could add £1.3bn to the Liverpool City Region economy.
The three tax sites are at Wirral Waters, Parkside and 3MG. They will focus on investment in manufacturing and logistics, advanced manufacturing, innovation and research and development activities. 3MG will also play a critical role in HyNet, a multi-billion pound project to transport low-carbon hydrogen to transport and industry across the North West. Other customs sites could include: Liverpool John Lennon Airport; Borchard Lines container terminal; Port Garston; Port Weston; Port Salford and Stobart rail terminal. Also, Knowsley rail terminal, Garston rail terminal, Stanley and Atlantic Park industrial estates and pharmaceutical companies AstraZeneca and Tava. These are all organisations that you need to keep an eye on as they begin to recruit.
John Lucy suggests the sectors of most interest are aerospace, automotive, green energy, bio-manufacturing and chemicals, food and drink and innovation. Decarbonisation will play a major role in the Freeport. There are plans for a fleet of trial hydrogen lorries to transport goods across the city region. Within Wirral Waters, the Maritime Knowledge Hub will become a centre of excellence for both decarbonisation and digital innovation. There are plans to create a Freeport skills academy to ensure as many people as possible benefit from the new employment opportunities created. There will also be Freeport Masters degrees created in partnership with both universities.
Freeports are set to build on the advantages already offered by ports that already employs more than 100,000 people and offers 20% high wages than the UK average.
While Freeports become active in Summer 2023, there is a wealth of jobs in the maritime sector that are worth looking at already.
One of the largest, busiest and most diverse ports in the UK, Peel Ports Liverpool sits on both banks of the River Mersey. It's a port with a long illustrious history and an exciting future. Peel Ports Group are the second largest port group in the UK, each year, they handle over 70 million tonnes of cargo from across the globe. Currently looking for a receptionist at their Royal Seaforth Docks and a Group Dockmaster.
Tradebe Environmental services are looking for a Lead Supervisor working on the shipping of hazardous waste. The role involves making sure the shipping operations are efficient and managing between three and five staff.
CMA CGM (UK) Shipping Limited, a leader in logistics and door-to-door intra-Europe transport, has a range of roles currently from equipment co-ordinators to Transport planners.
Other opportunities include: Maritime Security in Birkenhead; Costs Draftsperson and Daughter Craft Coxswain. This last role involves taking charge and command of daughter craft and fast rescue craft, including its crew, upon launch.
Other current opportunities working at sea include: Marine Engineers, Tug Masters, Marine Surveyors, Fisheries Biodiversity and Geomorphology Specialists, working for the environment Agency providing specialist advice on Nationally Significant Infrastructure Projects.
There are also research opportunities. At present Liverpool John Moores University is working on a project to establish the UK-Malaysia Collaborative Network, growing the innovation and competitiveness of sustainable rail & seaports infrastructure technologies. They are working on new and existing railway lines, quays, docks and other structures, including buildings and equipment for passenger or freight transport. They are looking for Research Assistants in Marine Transport that can contributing to maritime transport science research and knowledge transfer in the Atlantic area. The main research areas include shipping and port management and operations, and maritime transport logistics.
So, as you start looking for your next job, don't forget that the maritime sector has a wealth of opportunity to offer you. It's worth taking a look.
https://www.totaljobs.com/jobs-at/cma-cgm/jobs
https://jobs.ljmu.ac.uk/vacancies/9797-491997-Research%20jobs.html
https://www.totaljobs.com/job/lead-supervisor/tradebe-environmental-services-limited-job99307176
https://www.monster.co.uk/jobs/search?q=Maritime-Security-Officer—Birkenhead&where=Birkenhead&page=1&id=b4fc76ca-3a81-4cf5-8ff4-66d767b3e0f3&mstr_dist=true&utm_medium=feeds_boards&utm_term=rented&utm_content=prospecting&utm_source=jooble&utm_campaign=olm_sk_feed_jooble_p2_uk
https://www.totaljobs.com/job/group-dockmaster-ftc/peel-ports-group-job99355710?WT.mc_id=A_RE_JBLPPC_MP3_C48_23_TJ&_channel_jooble_source=channel_jooble_source_AQIBAAIAElcCIkICBEECAA