WILL YOU TRAIN AS AN APPRENTICE DOCTOR THIS YEAR?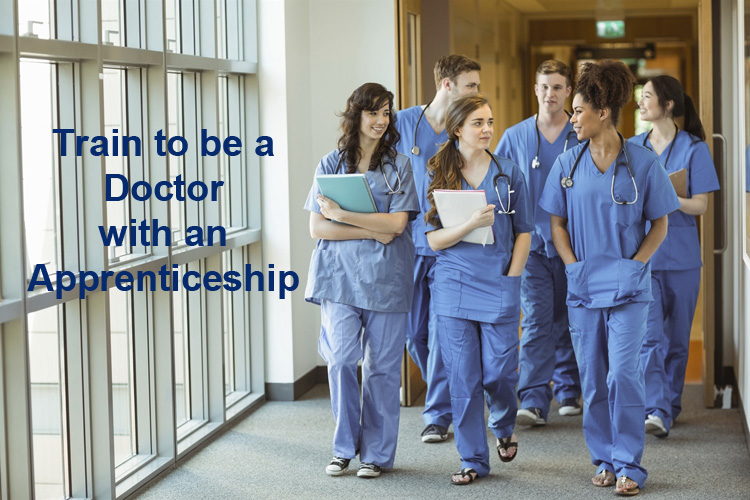 July 11, 2023
Add to Bookmarks
If you have ever thought of becoming a Doctor, you might want to think about how you train to get your medical degree…
Estimated Reading Time:
4
minutes
If you have ever thought of becoming a Doctor, you might want to think about how you train to get your medical degree. Did you know you could qualify with a degree apprenticeship? It's an exciting route to gain experience and has significant financial benefits to the traditional route. Read on to find out more.
The NHS has significant staffing gaps at present. The UK has 2.8 doctors per 1,000 population, which puts it well below the European Union (EU) average of 3.4 per thousand. In fact, only four European countries have lower numbers. What caused this? It's a combination of factors. Brexit has seen EU Doctors working in the UK leaving. This was not unexpected as a survey, undertaken by the BMA in 2017, of 1,720 EU doctors found that 45% were considering leaving. In addition to this, senior Doctors are retiring early and there are not enough Doctors being trained to fill the gap. The British Medical Association (BMA) has estimated that 46,300 more Doctors are needed in England. 
The government has an NHS workforce plan that looks at NHS staffing gaps and makes strategies to try to fill them. Part of this plan is to see how they can increase the number of Doctors in the NHS. If you want to train as a Doctor currently, you need to go to university and study for a medical degree. This year there may be another route that could prove attractive for students and boost the number of people wanting to train as Doctors. When you think of apprenticeships you may be under the misconception that this is training for tradespeople such as carpenters or plumbers. While apprenticeships do provide a training route for these professions, they also provide training for a wide range of other professions from airline pilots to Doctors. The training programme, known as an apprenticeship standard, for an apprentice Doctor was created and approved in July 2022. However, apprenticeships require a business and a training provider to work together to deliver the training programme. This has benefits for an apprentice as it combines both theoretical training with practical on-the-job experience. 
To become an apprentice Doctor the NHS needs to team up with universities and be the employer in the employer training provider apprenticeship relationship. The plan to introduce an apprenticeship for Doctors may get approval in the next few weeks and see apprentices begin training this September. This will be part of a long term strategy because the apprenticeship training takes 60 months. If you begin training this September, you'll qualify five years' later as a junior Doctor.
So why might you consider being an apprentice Doctor?
In addition to getting valuable on-the-job training experience and the same qualification as the traditional university route, there is a huge financial benefit. According to the BMA you can expect to emerge from university with a medical degree and an £80,000 debt to pay off. This is not the case with an apprenticeship. The employer and the government pay this. 
Health Education England, has confirmed the funding to train 200 apprentice Doctors over the next 2 years.
The funding is designed to support healthcare employers to meet the costs of taking on apprentices, including staffing costs while apprentices are undertaking education and training.
Doctor apprenticeships are seen by HEE as an important step towards making careers in medicine more accessible. They also recognise that the apprenticeship will provides an alternative route into medicine that will attract a diverse workforce, more representative of local communities.
If you are thinking about training to be a Doctor this year, take a look at the Apprenticeship option.
https://commonslibrary.parliament.uk/research-briefings/cbp-9731/
https://www.instituteforapprenticeships.org/apprenticeship-standards/doctor-degree-v1-0
https://www.hee.nhs.uk/news-blogs-events/news/funding-confirmed-first-200-apprentices-train-doctors