MAGENTA LIVING HOLDS FIRST GIRLS IN CONSTRUCTION EVENT WITH BACKING FROM THE LIVERPOOL CITY REGION APPRENTICESHIP HUB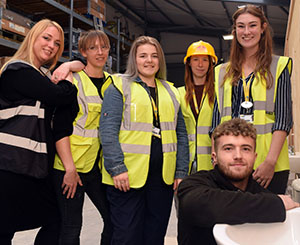 Estimated Reading Time:
6
minutes
Local school and college students were given an insight into the wide variety of career opportunities available in building maintenance and construction at a special event organised by Magenta Living, one of the North West's leading housing providers, to encourage more young women into the industry.
The Go Construct – Girls in Construction open day was held at Magenta Living's Building Services Depot in Birkenhead, home to the housing provider's team of more than 150 highly-skilled building services technicians. The team provides a broad range of specialist services to Magenta Living customers, across the 13,000 properties the organisation currently owns and manages in Wirral and throughout the North West. Services delivered include 24/7 emergency response repairs, refurbishments, maintenance, building renovations and conversions, electrical engineering, plumbing, joinery and decorating.
Female students were invited to see the team in action, with a series of practical demonstrations and talks put on to increase awareness of the diverse career paths available to them across the building maintenance and construction industry. Plumbing, joinery,  plastering and decorating were all showcased, and students heard from Magenta Living painter Cathy Jackson who shared her own personal development story, having originally joined the organisation ten years ago via an apprenticeship.
The event was opened by Michelle Plimley, Magenta Living Head of Voids and Allocations, who explained her role in the organisation, along with Head of Business Development for Building Services, Mike Cliff, who talked about the vital part apprentices play in delivering excellent services for Magenta Living's customers.
Students were able to take a tour around the Building Services depot, which included a session with Leona Roper, assistant branch manager for Travis Perkins Managed Services, who explained what her role is and how her company manages Magenta Living's repair and maintenance supplies. Leona gave her audience a sneak peek into the Travis Perkins dedicated store facility at Magenta Living's Building Services Depot, which gives repair and maintenance staff instant access to the materials they require on a daily basis.
Magenta Living also invited three of its IT high-fliers to talk to the young women attending the open day, to help illustrate that building and construction also encompasses a wide variety of business support roles. Jen Tyler and Anne Carr, who have reached the finals of this year's Women in IT Excellence Awards, along with Paige Carr, ICT Apprentice, gave an insight into their day-to-day work and the opportunities available to women in STEM related areas of the industry.
The event was designed in conjunction with Wirral Metropolitan College, a further and higher education college offering courses and diploma qualifications from entry level to degree. The college has been a source of local, talented apprentices for Magenta Living for some time and earlier this year, the two organisations formed a new mutually beneficial partnership. Under the agreement, the college provides insight and expertise to help Magenta Living strengthen the capabilities of its workforce whilst Magenta Living helps to shape the development of Wirral Met's curriculum to ensure it meets the needs of its business. Magenta Living also provides work experience and apprenticeship opportunities for students.
Students from Wirral Metropolitan College joined year 9 to 11 pupils from Birkenhead Park School and Bebington High at the Go Construct open day.
Joanne Francom, Director of HR & Organisational Development at Magenta Living said, "It was fantastic to engage with young women from our local schools and colleges through this event and, hopefully, to open their eyes to the exciting variety of careers avaliable within the building maintenance and construction industry. The housing sector relies heavily on skilled tradespeople and we need to tap into female talent to help ensure we have the right skills in place going forward. We have some outstanding female team members at Magenta Living but we recognise that our organisation, along with the rest of the industry needs to do more to encourage women into building and construction.
"While there have been some positive changes in terms of gender diversity in building and construction in recent years – with more than a quarter of positions in the industry expected to be filled by women by 2020, we still have a long way to go.
"Of course it's important that women of all ages come to see building and construction as a viable career path, and Cathy Jackson who joined us as an apprentice in her 30s illustrates that age barriers aren't an issue to entry, but a big part of making change happen is building awareness of opportunities from an early age and helping to break down the gender stereotypes by engaging with school children and actually demonstrating to girls that they can do what would have traditionally been male-dominated roles. This was a pilot event for us but, given its success, we look forward to holding similar events in future."
The Go Construct event was sponsored by The Liverpool City Region Apprenticeship Hub,and funded as part of the Employees Support in Skills Project funded by the European Social Fund / Education and Skills Funding Agency.
Chris Eriksen, Hub Skills Broker from the Liverpool City Region Apprenticeship Hub attended the open day and said, "It's fantastic to see a local company opening up its business like this to help bring apprenticeships and career opportunities to life for young women.This was an excellent showcase of the types of sought after skills that can be acquired via an apprenticeship with organisations like Magenta Living."
Carmell Denton, a joinery student from Wirral Metropolitan College who went along to the open day added, "Pro-active events like this will help to shift the balance in what has been a very male-dominated environment and encourage more women like myself to pursue a skilled trade and make their mark in the industry."
Pictured: Wirral Met Students (right to left: Jenny Yarrow, Carmell Denton, Jamie-Lee Wockenforth, Zoe Martindale) and their tutor, Victoria Dann- Head of Construction, with Magenta Living Plumber Dave Stenhouse
ENDS
Notes to Editor:
Magenta Living is a not-for-profit housing provider, currently owning and managing nearly 13,000 properties. We are the largest social housing provider in Wirral, housing just under 10 per cent of Wirral's population, and also operating across the North West of England. We have invested over £200 million in our properties over recent years and are developing ambitious plans to build over 2,000 new homes for rent and sale by 2022, taking our stock to 15,000 properties. We are committed to providing excellent services and investing to support vibrant homes, lives and neighbourhoods, with a focus on delivering social value that makes a positive impact within communities.