Apprentice bricklayer progresses rapidly to management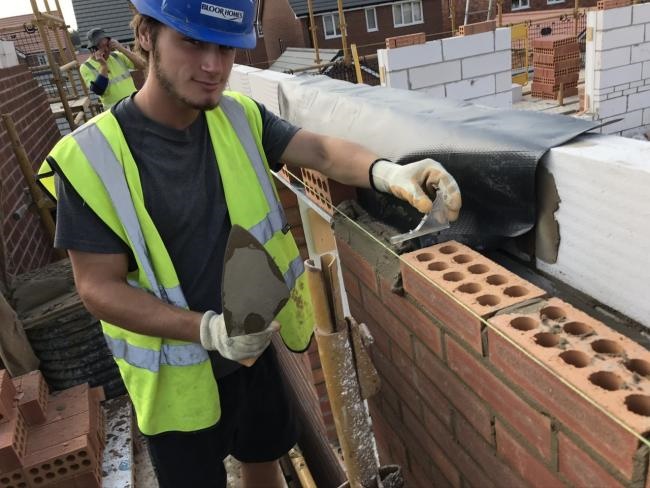 Estimated Reading Time:
3
minutes
The Apprenticeship Support by Be More Team are always looking for opportunities to highlight the successful apprenticeships across the Liverpool City Region. This month we hear from Riverside College who has been in the news recently reporting former apprentice Phil Barrett's success in the construction industry.
Phil Barrett is a rising star in Bloor Homes, the UK's largest privately-owned house building company. Phil began his construction career with this company while he was a student at college. The dedication and talent he showed on his work experience with the company was spotted quickly. As a result, he was offered a Bricklaying Apprenticeship. Phil has progressed onto the Bloor Homes trainee site management scheme.
Phil completed his Bricklaying Apprenticeship at Bloor Homes with Riverside College. As a training provider the college provides the knowledge and skills that can be honed with practical experience on site. Phil was one of three other Bricklaying apprentices Riverside College has helped train for Bloor Homes. Apprentices train with industry specialists and build experience to become full time brick layers with Bloor Homes.
The Bricklaying Apprenticeship provides effective training and experience in a skilled trade. Bricklayers specialise in laying blocks, bricks and other building components in mortar. Their work ranges from constructing buildings from the ground up to repairing buildings including walls, foundations, partitions and many other structures, such as chimney stacks. Bricklayers work on a multitude of projects in the construction industry from homes to large commercial developments.
A Bricklaying Apprenticeship also opens up opportunities to progress further in the construction industry. Phil Barrett has seized this opportunity. "I always wanted to progress in the construction industry and learn more, so the first step towards that was going onto the management side. I took the chance and applied for the trainee manager job and when I was successful, I was over the moon because I knew it was the beginning of a successful journey," says Phil.
Reflecting on his apprenticeship he recalls the training he had at Riverside College. "The support I've had from Riverside College and the teachers has helped me tremendously and they were always there which I am very grateful for," Phil said.
Ian Colligan, brickwork tutor at the college recalls training Phil. "It is extremely rare for someone so young to be selected for this type of opportunity and it is a testimony to his dedication and hard work that he has now been rewarded with a fantastic opportunity to further his career within the construction industry. We all wish Phil the best of luck for the future – he has been a pleasure to teach and is a credit to himself and his family," comments Ian.
You can read about Phil's success in a recent article in Runcorn and Widnes World. For impartial information and advice about apprenticeships across the Liverpool City Region contact the Apprenticeship Support by Be More Team.