Apprentices look forward to their Graduation Ceremony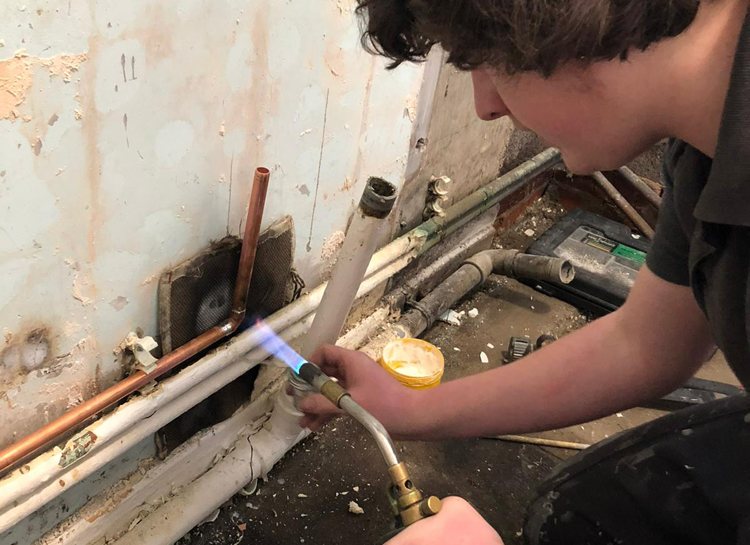 Estimated Reading Time:
3
minutes
On November 25th 2021, Apprentices across the Liverpool City Region (LCR) will celebrate their hard work and achievements at the Apprenticeship Graduation Ceremony. We talk to The Sovini Group apprentices about why they are going and what they are looking forward to.
Apprenticeship Support by Be More, working in partnership with Liverpool Sound City, is creating a spectacular Apprenticeship Graduation Ceremony. The ceremony will be a night to remember hosted at the Grand Central Hall Liverpool. It promises an evening full of surprises, entertainment and an atmosphere like no other.
Cameron McCool and Lucas Redmond-Quick are plumbers in The Sovini Group who have completed their apprenticeships recently. When they heard about the graduation Ceremony from Christina Forshaw, The Sovini Group's Learning and Development Manager, they were one of the first apprentices to book their places.
Apprentices are an important part of The Sovini Group's workforce. "Our apprenticeship programme offers apprentices the opportunity to grow professionally and personally in order to build the foundations for a successful career. We have over 50 apprentices and each apprentice receive on-going support from their dedicated mentor. In addition, we also employ an apprentice champion who acts as a link between the training provider and the business which offers a further support resource," says Christina.
Cameron and Lucas have completed a two year apprenticeship with the company. Both are now employed by The Sovini Group. Cameron is also starting a further Level 3 apprenticeship to acquire further plumbing skills and experience. "We do not simply offer apprenticeships. We offer apprenticeships in the best place to work in the UK, with a host of benefits as well as staff social events and corporate discount schemes. We believe that hiring apprentices can have an impact on the whole business as they can add a whole new dimension to the workplace, bringing with them a fresh perspective and new ideas. Apprentices can be trained to meet the needs of the business and tackle skill shortages," explains Christina.
So why have Cameron and Lucas booked their places at the graduation event and what are they looking forward to?
"I've worked hard to get my apprenticeship, so it's good to have an event that marks that achievement. I thought it would be good to go and a nice thing for the family to see," Lucas tells us.
Cameron is of a similar opinion. "I worked hard to get my apprenticeship and this event will allow me to reflect on what I have achieved. I'm looking forward to getting a certificate and bringing my Mum and Dad along to a ceremony that will mark my achievement and make them proud," he reveals.
If you completed your apprenticeship between August 2019 and July 2021 and you live in the Liverpool City Region, (Halton, Knowsley, Liverpool, Sefton, St. Helens and Wirral) you're on the invitation list. You can get free tickets by completing this registration form. Tickets are being issued on a first come, first served basis, so there is no time like the present to book your seat.
If you are interested in becoming an apprentice, the Apprenticeship Support Team by Be More provide impartial information and advice.