Apprenticeship Champion wins Business Woman of the Year award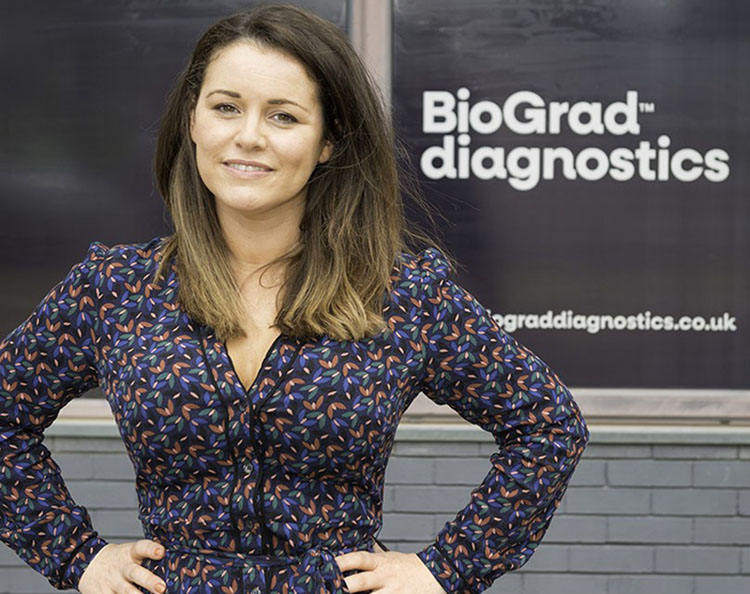 Estimated Reading Time:
2
minutes
Dr. Natalie Kenny, Director and Chief Scientific Officer at Liverpool based BioGrad has won the EVAS Business Woman of the Year award. She tells us how apprenticeships benefit her expanding business.
BioGrad is an elite training provider for scientists and medics across the world. Based in the state-of-the-art Liverpool Science Park, last year they trained scientists from 526 institutes across 121 countries.  In response to the pandemic they have opened a screening laboratory for COVID PCR tests and developed an apprenticeship programme that allowed them to expand very rapidly. Natalie's vision and leadership in laboratory based learning, diagnostics and COVID testing was recognised by Enterprise Vision Awards (EVAS). The award also recognised her work as an inspirational role model for women in STEM.
As the company's COVID screening proposition grew, BioGrad formed a firm partnership with training provider Wirral Met. This has allowed them to expand the number of apprenticeship schemes they offer.  Natalie is seeing the value apprentices are bringing to the business.
"Apprentices allow us to expand very rapidly as an organisation in response to the changing pandemic requirements. We have taken on apprentices in business administration, health and social care and also laboratory technicians. The amazing thing about apprentices is that we get to train them in house so, we can see them developing to undergraduate level within a few months of starting with us. Our hope is that they will stay with us after their apprenticeships and develop their skills with us as the company expands in the future," Natalie tells us.
She is also seeing fresh new talent invigorating the company culture. "We've found our apprentices are really enthusiast, really excited about coming into work and bring a fresh excitement for science into the labs while they are mentored and paired with more experience scientists," she reveals.
The recruitment process for apprentices has also been very smooth, facilitated with Wirral Met. "We have a great relationship with Wirral Met. It is usually just one phone call and we can move through the process pretty quickly," comments Natalie.
If you would like further information on apprenticeships and how to apply for them, talk to the Apprenticeship Support by Be More Team They provide impartial information and advice on apprenticeships across the Liverpool City Region.