Butchers are in Demand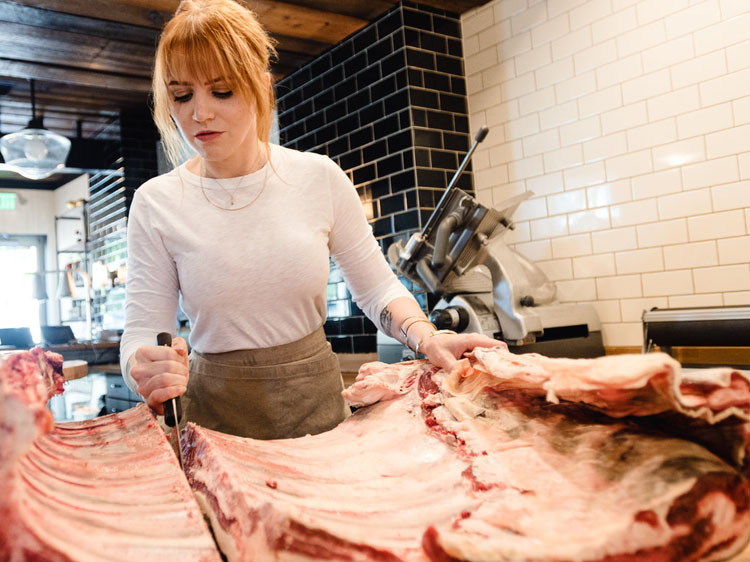 Estimated Reading Time:
3
minutes
Pig farmers across the country have highlighted a shortage in butchers that will lead to potential culls and increased food costs. We look at butcher apprenticeships and how apprentices could meet the increasing demand for skilled butchers.
Sophie Hope rears pigs. She says that the lack of butchers may lead to a welfare cull as farmers run out of space to keep their livestock. She rears 10,000 pigs and is not alone in her concerns.  The National Pig Association said around 80% of skilled butchers in abattoirs are from Europe. Many have left because of Brexit and Covid, leading to a sudden shortage of this skilful trade. While the short term gap may be plugged by short-term visas and incentives, apprenticeships may offer a more sustainable solution. So what's involved in being an apprenticeship butcher in the Liverpool City Region?
Butchers work in the meat and poultry industry that employs thousands of workers getting food from farm to fork. It's an industry worth billions of pounds across the UK. Qualified butchers enjoy rewarding careers with different types of employers including processors and retailers. Processors range from multi-national businesses supplying meat and meat products to large food outlets, supermarkets and hotel chains. You might also work for a farm shop or an independent high street retailer. Experienced butchers often set up their own outlet.
Why become an apprentice butcher? Butchery is one of the oldest crafts in the world, and is often where innovation meets tradition. The industry is full of character and camaraderie. It's set to play a critical role in our social and economic future. A successful butcher has dexterous knife skills and the skill to get the most cuts from every carcass, reducing waste and increasing profitability. Butchery is a highly skilled profession steeped in tradition. It's a trade that will build knowledge of a range of meat and the techniques needed to make meat products from bacon and sausage to fillet steaks and pies. During your apprenticeship you'll learn a range of primary and secondary butchery skills with steak and boning knives, hand saws, cleavers, banding needles and other tools. You'll become skilled at primal cutting, boning, slicing, dicing, rolling, trimming and filleting.
Qualified apprentices gain a Level 2 Food Safety Award, Level 2 Health & Safety in the Food Supply Chain Award, and Level 2 Knife Skills Award. They are also recognised by the Institute of Meat (IoM) entitling them to use the initials M.Inst.M.
The apprenticeship takes 18 months to complete and there is also an Advanced Butcher Apprenticeship if you want to build further on your skills. This leads to developing skills in production management, sales, quality control, training others, merchandising and management. Butchers in independent retail environments build their knowledge of artisan practices and the preparation of wet/dry meats for a variety of culinary uses including sausages, pie making, curing and smoking.
If you would like further information on apprenticeships and how to apply for them, talk to
the Apprenticeship Support by Be More Team They provide impartial information and advice on apprenticeships across the Liverpool City Region.