Could you be a Personal Trainer?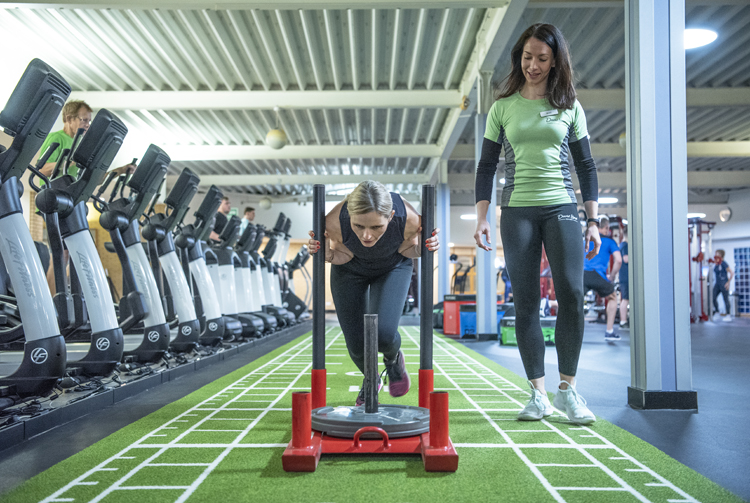 Estimated Reading Time:
4
minutes
January is a time where people make resolutions and put plans in place to improve their lives. Being more fit and healthy is often high on the list.  Gym membership across the Liverpool City Region often increases in this month creating opportunities for personal trainers.
A personal trainer is a positive, professional individual committed to motivating clients to achieve their health and fitness goals. They provide individualised coaching, taking into account lifestyle, wellbeing, fitness and nutrition. The role of a Personal Trainer is to coach clients, on a one to one and small group basis. They design and help deliver creative and personalised exercise programmes and instruction, combining this with nutritional advice. They motivate their clients to change their behaviour positively and improve their overall wellbeing.
In 2022 the trend to train using a fitness app is predicted to increase. Last year 13.2 million people trained this way across the UK. Over 14.1 million users are anticipated this year. This presents further opportunities for personal trainers. "There's been an explosion of online content over the past two years and whilst it's brilliant to have such choice, the flip side is not knowing where to start. I'd advise caution around who is delivering the training, technique shown and suitability for individuals who may be new to training or injured. At present there is no regulation of 'fitness trainers' in the online space, anyone can do it.  My advice would always be to check the credentials of the instructor you're following. All the team on the David Lloyd @home app are CIMSPA registered, so look out for those with industry approved accreditation," suggests Lucy Day, Head of Gym and Sports at David Lloyd Clubs.
So how do you train to be a Personal Instructor? Apprenticeships offer a good way to get practical experience and gain a professional qualification. David Lloyd Clubs is the largest health and fitness group with 99 UK clubs, two of which are in the Liverpool City Region. It is one of the organisations that helped shape the apprenticeship standard for Personal Trainers.  "The group has over 20 apprenticeship programmes. We have a wide range of opportunities all across the business, from maintenance to management. Our schemes aren't just for school leavers, they're also a great way to retrain if you're looking to change direction later on in your career, whatever your age. We even offer apprenticeships to our existing team members to help support their development and encourage them to continue to grow," says Scott Mykoluk, General Manager at David Lloyd Clubs, Knowsley.
An apprentice Personal Trainer studies a wide range of subjects including: Anatomy, Physiology & Kinesiology; Lifestyle Management and Client Motivation; Health and Wellbeing; Exercise Programme Design and Delivery; Exercise Technique and Nutrition. They also gain a comprehensive understanding of business, finance, sales and marketing. This is essential to enable the Personal Trainer to build and retain a stable client base. Personal Trainers are typically employed by a fitness or leisure centre or, once qualified, can be self-employed. You should expect to work hours that may include evenings, weekends and public holidays.
On successful completion of your Personal Trainer apprenticeship you will be eligible to apply to become an Affiliate of the Chartered Institute for the Management of Sport and Physical Activity (CIMSPA) and a Member of the Register of Exercise Professionals (REPS).
If you would like further information on apprenticeships and how to apply for them, talk to the Apprenticeship Support by Be More Team They provide impartial information and advice on apprenticeships across the Liverpool City Region. For more information about David Lloyd Clubs' apprenticeships visit https://careers.davidlloyd.co.uk