Final Call for Liverpool City Region Skills Show 2022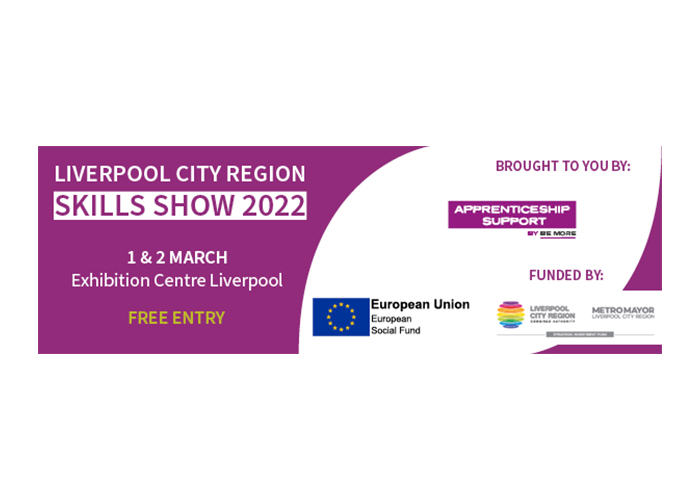 Estimated Reading Time:
3
minutes
It's still not too late to book for the Liverpool City Region Skills Show 2022. Being held on 1st to 2nd March it's a unique opportunity to meet local employers and apprenticeship providers.
The Exhibition Centre, Liverpool is hosting the Liverpool City Region Skills Show 2022. It's a unique event created by Apprenticeship Support by Be More and funded by the European Social Fund and Strategic Investment Fund.
The Liverpool City Region Skills Show is a free event, providing the residents of Halton, Knowsley, Liverpool, Sefton, St Helens and Wirral with a unique chance to meet local employers, apprenticeship providers, colleges and universities all under one roof. The event is taking place on the evening of Tuesday 1st March between 4:30 to 7pm and during the day on Wednesday 2nd March from 9:30am to 3pm.  The event is free and can be booked easily online.
Many employers will be on hand to speak to young people at the Liverpool City Region Skills Show; some of them will be regular recruiters of apprentices, whilst others will be representing some of the key growth sectors in the region including hospitality, healthcare, visitor economy, digital and creative. All employers will be focussed on informing young people about future job opportunities, the types of skills they look for and apprenticeship opportunities.
The exhibitors have been working hard to make their stands interactive, so you can experience elements of an apprenticeship first hand. It's a great opportunity to see if the career you are dreaming about is the one for you and to try some alternatives that you might find you are a natural at.
The 1st of March is described as a twilight session and is specifically designed for parents, carers, individuals and groups of friends. It provides the opportunity to discuss a young person's future and help them take the right steps to achieve their full potential.
Across both days there is a programme of talks on the 'Get Skilled' stage and 'Future You' theatre featuring an 'Apprenticeship for all presentation by the Apprenticeship Support team. Open the Door Theatre in Education will be presenting their play called 'Apprenticeships, your pathway to success.' Unifrog will be covering how to interview well and prepare your CV together with many other exciting presentations.
Take a trip around the exhibition hall and you'll find ten themed zones from Construction and the Built Environment to health and social care and more. Take a look through the exhibition pocket guide to see who is exhibiting and where to find them.
"By bringing together the residents of the Liverpool City Region with employers, universities, colleges and training providers, we hope to create apprenticeships opportunities and wider career options for young people in line with local priorities," explains Melanie Dodd, Skills Strategy Manager at Apprenticeship Support by Be More.
We look forward to seeing you there.
If you would like further information on apprenticeships and how to apply for them, talk to the Apprenticeship Support by Be More Team They provide impartial information and advice on apprenticeships across the Liverpool City Region.