It's time to Celebrate Apprentices' Achievement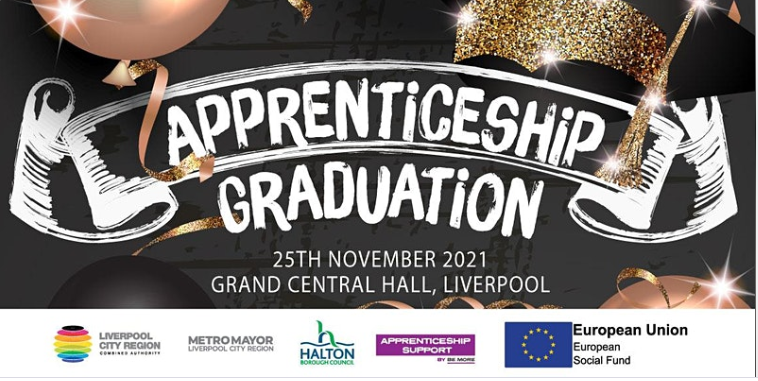 Estimated Reading Time:
3
minutes
It's been a while coming, but there's a party on the horizon and it's going to be a good one. It will be a graduation event that celebrates the achievements of Apprentices across the Liverpool City Region (LCR) in style. If you completed your apprenticeship between August 2019 and July 2021 and you live in the Liverpool City Region, (Halton, Knowsley, Liverpool, Sefton, St. Helens and Wirral) you're on the invitation list.
It's fair to say that the last year has been tough. Hard working businesses and apprentices across the Liverpool City Region have a lot to celebrate. Apprenticeship Support by Be More has created that opportunity. Working in partnership with Halton Council and Sound City, they are creating a stylish spectacular event. On November 25th 2021, the Apprenticeship Graduation Ceremony will recognise the hard work and achievement of recently qualified apprentices across the Liverpool City Region.
"Universities across the globe celebrate the achievements of their academics with graduation ceremonies. It's an important occasion that recognises hard work, success and the beginning of a sparkling career. This November, apprentices can take the limelight as we mark their dedication, study and hard work achieving a balance of academic knowledge and business acumen to launch their career. We are getting ready to celebrate in style," explains Mel Dodd, Apprenticeship Support Skills Strategy Manager.
If you completed an apprenticeship between August 2019 and July 2021 in the LCR, and are a resident, this graduation ceremony is for you. We would love to hear from you. It's time to celebrate with family and friends at a truly special occasion that you deserve. The event will be spectacular, particularly as the creative minds of Sound City are at the heart of its production. They are the organisation whose headline festival weekend is an annual hub for new music discovery in the City. The event will feature special guests and Sound City are keen to ensure apprentices have a stunning night in the heart of Liverpool. The event promises an evening full of surprises, entertainment and an atmosphere like no other. You won't want to miss it. You can get free tickets by completing this registration form. Tickets are being issued on a first come, first served basis, so there is no time like the present to book your seat.
"This will be a celebration of the incredible work not only of apprentices but apprenticeships programmes across the LCR. It will shine a light upon those who have gone above and beyond in their apprenticeship journey and will continue to be rising stars of the future. The evening will mark not only the achievements of the apprentices at the graduation ceremony, but also celebrate the achievements of all 2021 apprenticeships across the LCR," says Mel.
If you are interested in becoming an apprentice, the Apprenticeship Support Team by Be More provide impartial information and advice.