Machmade and Arup in the News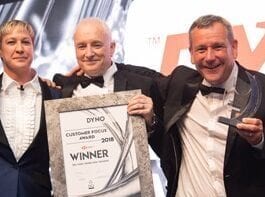 Estimated Reading Time:
3
minutes
This month we look at Machmade, specialists in the plumbing, heating and drainage markets who grew its capability rapidly by creating an apprenticeship programme. We also highlight how Arup have created videos to show potential apprentices, straight out of school, what it's really like to be an apprentice in a leading engineering company.
This month we take a look at two more Be More Ambassadors as they promote apprenticeships in the media. Our Ambassador network includes companies and apprentices who are on hand to describe their experiences of their apprenticeship journey. Ambassadors play an important role in helping us to provide practical and current advice about apprenticeships. Here we highlight the long term commitment these organisations have to promoting apprenticeships with previous news items that have brought business growth and attracted new talent.
We begin with Machmade who in 2018 won the Customer Focus Franchisee Award at the British Franchise Association's HSBC Franchise Awards. Machmade is a Dyno franchise business operating in the Greater Merseyside area. They are specialists offering a 24 hour/365 day emergency service to both contract and on-demand customers. It is a family-run business employing 56 staff. Neil and Reg Illingworth, Directors of Machmade, drive the business and are innovative thinkers. The company started trading in 1987 with two drainage vehicles. It has become a successful plumbing, drainage and heating business serving the Greater Merseyside area. They help out thousands of customers experiencing emergencies and thousands more on-demand jobs annually. Retaining a highly motivated and skilled plumbing base is key to their success. Neil and Reg developed an apprenticeship programme to grow and retain the talent they needed. Their retention rates are high due to continued investment in their training. The business has a feel good factor that is infectious. Their customers feel it too hence their customer focus award. Read the article in Heating Ventilating & Plumbing (HVP) magazine, the leading plumbing and heating magazine for installers here.
Sir Ove Arup was an inspirational leader, talented engineer and philosopher. His legacy is a world leading company that has his values at heart. If you want to work for Arup, don't be surprised when they sit you down with his key speech from the 1970's. Don't be surprised if that changes the way you think and work. Back in the day his business looked and felt disjointed. This speech brought partners in diverse independent practices across the world together. It has aims and principles that are at the heart of Arup's culture today. Why do we mention this in an article about Arup in the news? On the front cover of the document you will be presented with an important statement that affirms Arup's commitment to looking for and developing talent: "No matter how wonderful an organisation we can devise, its success depends on the people working in it – and for it," stated Sir Ove Arup in 1970.
In the news article targeted at school leavers there are four videos that invite you to explore the apprenticeship programme at Arup. Featured in All about school leavers the article gets Arup's apprentices to talk about the programmes, why they chose to do them and the best aspects of the schemes. You can also take a look at what a typical day could look like if you chose to follow the same path. You can find out more from Neil, Gemma, Luke and Jack here.