National Apprenticeship Week 2022 gets underway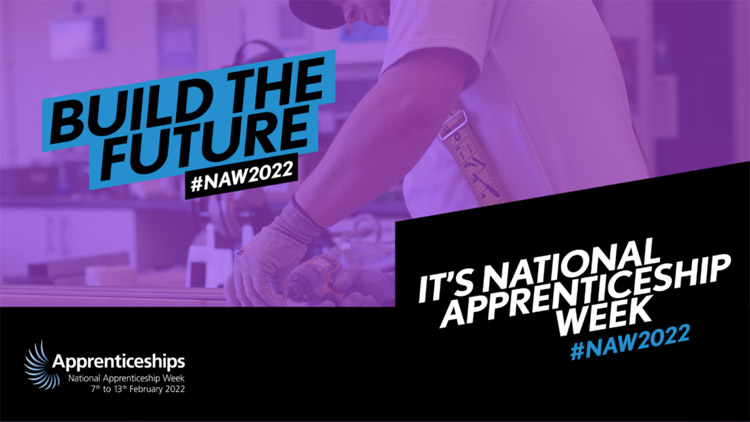 Estimated Reading Time:
3
minutes
This month saw National Apprenticeship Week 2022 celebrate apprenticeships. We look back at the launch of the week.
National Apprenticeship Week 2022 is the 15th annual week-long celebration of apprenticeships. It aims to shine a light on the positive impact that apprenticeships make to individuals, businesses and the wider economy. Build the Future: Train, Retain, Achieve is the theme for NAW2022 that took place between the 7th and 13th February. The week highlighted how apprenticeships help individuals build the skills and knowledge required for a rewarding career. In addition, it also illustrated how apprenticeships offer businesses a great way to develop a talented workforce that is equipped with future-ready skills.
The week was launched by Secretary of State for Education, Nadhim Zahawi. He reflected on the benefits of apprenticeships and the inspiring activities across National Apprenticeship Week.
"Apprenticeships offer people of all ages the chance to earn while they learn and build a successful career, while also delivering the skilled workforce this country needs to build back stronger. National Apprenticeship Week is a fantastic opportunity to celebrate and recognise the achievements of apprentices, their employers and training providers. It is great to see so many events and activities happening across the country which I hope will inspire even more people to start their apprenticeship journey," he said.
Apprentices are leading the charge in building back stronger from the pandemic with over 40% more people starting apprenticeships in the first quarter of 2021/22 than in the same period 2020/21, which is up again from pre-pandemic levels in 2019. From delivering life-saving care in hospitals, to helping us deliver the skilled workforce this country needs, apprentices are a cornerstone of the government's plans to level up the country, with over 5 million people starting apprenticeships since May 2010.
Hundreds of virtual and in-person events took place throughout National Apprenticeship Week, many across the Liverpool City Region. They all gave potential learners and employers the chance to find out more about the brilliant benefits apprenticeships offer.
The UK's Minister for Skills, Alex Burghart MP toured the country meeting Apprentices and their employers. Mr Burghart said: "It's been a real pleasure for me going around the country meeting scores of people in different stages of their careers and lives who are really benefitting from this extraordinary way of working, whose time is really coming again. I don't remember a time in my lifetime when the economy was so hungry for skills. We've got over a million vacancies out there, we've got a huge host of opportunities for people to take advantage of, and it's going to be apprenticeships that are going to help people make the jump into those opportunities."
If you would like further information on apprenticeships and how to apply for them, talk to the Apprenticeship Support by Be More Team They provide impartial information and advice on apprenticeships across the Liverpool City Region.