Over 190 Apprenticeships in Liverpool this month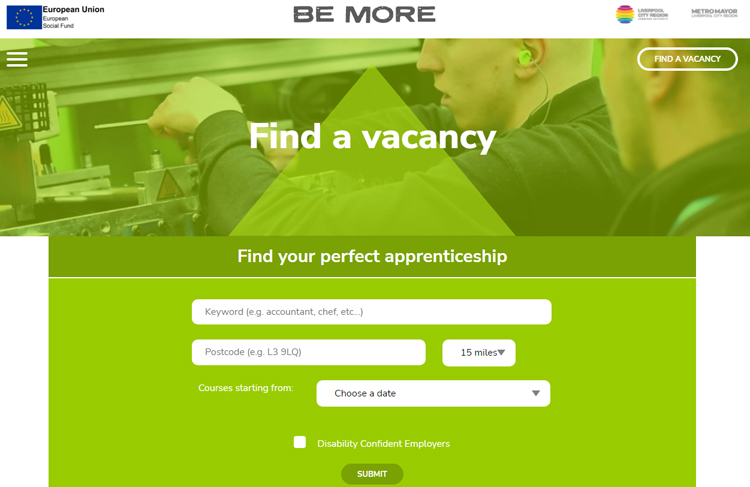 Estimated Reading Time:
3
minutes
When it comes to looking for apprenticeships across the Liverpool City Region the Be More site is the first port of call. There are over 190 apprenticeship vacancies this month across the region.
If you are looking for an apprenticeship then the first place to visit is the Be More website. It lists apprenticeship vacancies across the region. There are 650 on the site, but 196 of them are new this month.
The site is easy to navigate with a range of criteria for you to search for your ideal apprenticeship. This can be by the career you are interested in, using the keyword search, or even by where you would like to work in the region, using the postcode search. If you are looking for a fast start, you can use the 'courses starting from' search box to look for apprenticeships available immediately. This is also a useful search criteria if you are still in school and want to plan ahead for September.
So what apprenticeships are out there this month across the Liverpool City Region?
VINCI Construction UK, Building NW Division have an exciting opportunity for an apprentice site engineer. You'll be working on North West Construction sites and gaining a qualification with Liverpool John Moores University on day release.
James Byrne Associates has an exciting and dynamic entry level apprenticeship on offer in financial services. The business is looking for a candidate who wants to progress and develop a career long-term.
United Utilities plc are looking for an apprentice water connections inspector and an apprentice wastewater connections inspector. You'll learn how to undertake site inspections and investigations, as well as audits. You'll identify risks and make sure that appropriate actions are taken to guarantee compliance of technical requirements and that policies and procedures are followed. They are also recruiting for apprenticeships in process control, credit control and for a meter technician.
If you are an animal lover how about making a career of it? Why not apply for a Dog Day-care Assistant apprenticeship at Oh My Dogz. As part of the role, you will be cleaning up after dogs, feeding dogs, playing with dogs and talking to customers about their dog's day. You will need good time keeping and customer care skills.
If you are looking for a career in IT then Estio Training have an exciting new opportunity for a Social Media Apprentice and an IT support apprentice with Halcyon Networks, an IT Services Provider based in Liverpool.
How about being a butcher? Popular butchers ADM Meats is offering an apprenticeship in this skilled profession. They are looking for a hard-working individual who enjoys a challenge and can work alongside other people. It's an important role in their company working with clients and keeping their shop full of fresh products.
Whatever your career choice there is an apprenticeship there for you. With growing number on offer across the Liverpool city region take a look at the latest apprenticeship on the Be More site.
If you would like further information on apprenticeships and how to apply for them, talk to the Apprenticeship Support by Be More Team They provide impartial information and advice on apprenticeships across the Liverpool City Region.