Part of the Family: Rewarding Apprenticeships in the Care Sector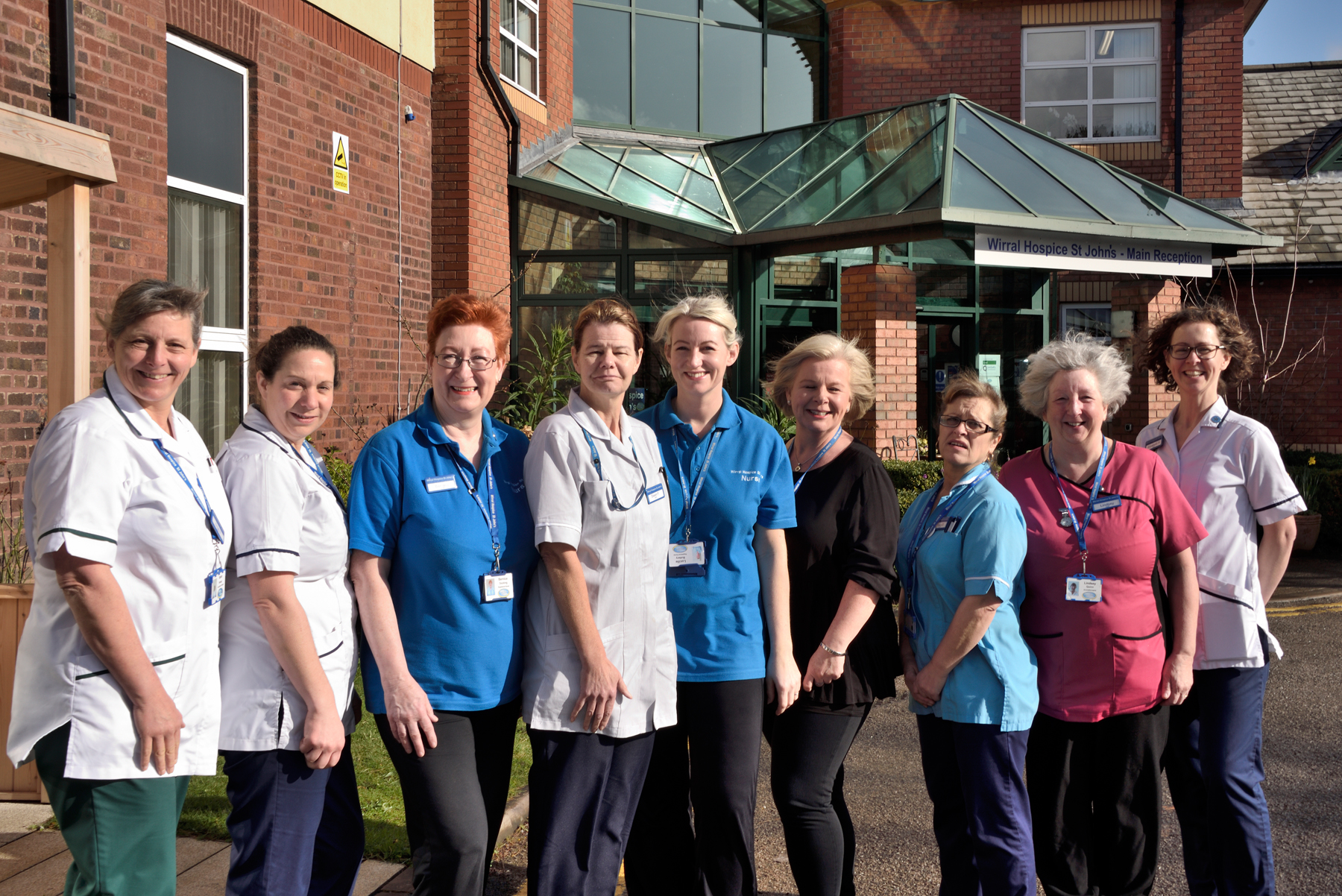 Estimated Reading Time:
5
minutes
You can take it as read that nursing is a profession for people who really care. At Wirral Hospice St John's it's not only the nurses that come with a caring ethos. The whole organisation embraces those values from fundraisers to volunteers from domestics to human resources. They consider themselves more than a team, it's a family that fosters a unique environment, full of happiness and care. Testimony to this are the host of comments that come from people who, in normal times, attend their Wellbeing Centre (day services) once a week. Heartfelt comments that bear out how Wirral Hospice St John's are delivering a service that improves the quality of life of the people that use their services. 'This is my family here at the hospice,' 'The staff are angels to us, they all have something inside,'  'I wouldn't miss this for the world,' 'I look forward to the one day a week I come in, they look out for you that much. You feel so well after being here.'
The 'rewards' for working in this caring environment are far beyond the tangible remuneration that puts a roof over your head.  There is an immense satisfaction that comes with helping to improve the quality of life, as far as possible, of patients and their families. You're part of an organisation that becomes extended family, providing specialist hospice care and support for people with a range of life-limiting conditions.
"Right now in our Inpatients ward, because of the coronavirus regulations, we have to limit visitor contact with our patients to close family members and medical, clinical and support services people who need to be bedside to support them. Usually there would be more volunteers, and other staff around our patients, so we do our utmost to find people, across all disciplines, who share our strong caring values," says Fiona Carter, Learning and Development Facilitator.
Wirral Hospice St John's is a charity. All of its services come free of charge for patients and their families and that requires financing. The medical and nursing support is garnered by a fundraising team helps to keep the monies coming in to meet the hospice's running costs.
The whole Wirral community rallies round in many innovative ways to support their local hospice. Seven charity shops around Wirral, regular giving, seasonal campaigns, hospice organised events (severely curtailed just now) as well as supporters own initiatives, alongside a weekly lottery are all part of the income generation mix. Everyone in fundraising embraces that family feeling.
Fiona and the hospice's HR team are looking to the future on how they can create opportunities through apprenticeships. Not only are they looking for fresh talent, they are also using apprenticeships for succession planning.
"As we move forward we will reinforce the determination to become a local employer of choice for our community. We will be talking to pupils in local high schools and colleges about apprenticeship opportunities with us. If you are compassionate and caring, we'd love to talk to you.
We've had successful apprenticeships in the last couple of years in nursing, in finance, in HR and in fundraising administration so people looking to grow a career are in good hands."
We are also building our learning development team, championing and evolving career pathways. For instance, we can put steps in place so that a nursing associate can progress through to a nursing degree apprenticeship.  In another area, our workforce development apprentice is currently moving onto a level 5 apprenticeship qualification," Fiona tells us.
The hospice also works with colleagues from other health organisations across the Wirral peninsula, from Wirral University Teaching Hospital (WUTH) to charities like Marie Curie and MacMillan and in collaboration with GP's and Wirral's community nurses and matrons. Hospice people enhance their own skills and experience while advancing the knowledge of other health professionals.
Their next apprenticeship opportunity will be for a trainee nurse associate. If you are up for the challenge and want a rewarding career in a happy caring environment where you can improve the quality of someone's life then this may be for you. "It's emotionally challenging, but on the other hand it's also rewarding," confirms Jeneba Belewa, a Clinical Nurse Specialist.
So, what do you need to be a trainee nurse associate apprentice at the hospice, beyond that desire to help deliver all round care?
'To become a level 2 apprentice trainee nurse associate you'll need a GCSE grades A–C/ 9-4 in Maths and English or equivalent. You also need a care certificate that can be gained through e-learning on the website. The final stage of this is observed and signed off by a nurse in practice.  You also need to get a Level 2 apprenticeship in Health and Social Care, but this is done alongside your nursing apprenticeship. That means you can join us from school. It's important that you have the emotional maturity and intelligence to work in this immensely rewarding environment, so you need to  be seventeen and a half years' old to begin your career in a hospice," says Fiona.
Wirral Hospice St John's has been delivering compassionate care and enabling support for people with complex life-limiting conditions for more than 37 years now. Could YOU be their next apprentice?