Tree management the professional way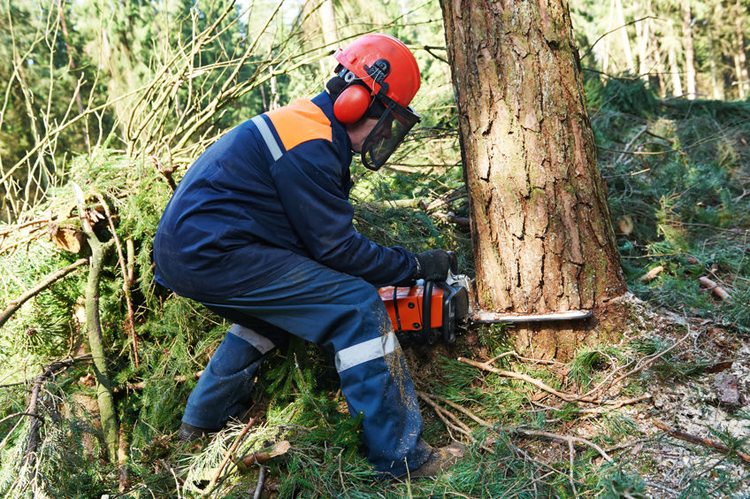 Estimated Reading Time:
2
minutes
In November's storm damage at Ainsdale National Nature Reserve (NNR) saw someone, with a passion for working with wood, cutting up damaged trees with chainsaws. While this is discouraged by Ainsdale NNR it demonstrated a local interest in woodland management. We look at the forest operative apprenticeship.
Storm Arwen felled many trees in the Ainsdale National Nature Reserve. The foresters that work in the reserve were working hard to ensure that trails through the reserve were safe and that the woodland was managed effectively. They were surprised to see fallen trees had been chopped up and issued pleas to walkers to report anyone using a chain saw in the reserve. The qualified staff in the reserve use large machinery to clear the fallen trees and any that are still hanging.
While there is appetite for amateur forestry in the popular Sefton pinewoods, we explore the Forest Operative apprenticeship that delivers professional training in managing trees, plants and the environment in forests and woodland.
Forestry is the art, science and practice of woodland establishment, maintenance and management, and timber harvesting. It is a diverse global industry with a wide range of career opportunities. This includes planning and management, conservation, recreation, research and logistics.
A Forest Operative apprenticeship provides qualifications and experience in the practical aspects of creating, maintaining and harvesting forests and woodlands. While some forest operatives specialise in different aspects of the job, they all have broad training in the full range of forestry operations. They also have a love of challenging work, outdoors, in all weathers. They also understand the relationship between commercial, environmental and social forestry.
If you decide to train as a Forest Operative apprentice, you'll choose between two specialisms. These are harvesting or Establishment and maintenance. The first involves felling and processing trees over 380 mm, measuring and recording accurately the volume of standing and felled timber. It also includes sorting the timber to product specification.
Specialising in establishment and maintenance will train you to prepare sites for planting and natural regeneration. This includes maintaining and repairing woodland infrastructure such as drains and fencing. Training includes handling plants, knowing how and where to plant them and pruning.
If you would like further information on apprenticeships and how to apply for them, talk to the Apprenticeship Support by Be More Team They provide impartial information and advice on apprenticeships across the Liverpool City Region.