What happened in National Apprenticeship Week?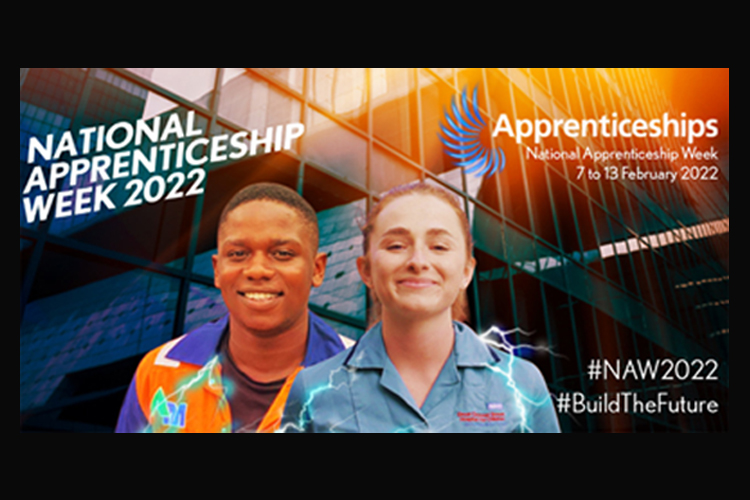 Estimated Reading Time:
3
minutes
National Apprenticeship Week was held this February. The whole apprenticeship community came together to focus on raising the profile of apprenticeships as a great way to gain skills and 'Build the Future'. This was the theme of the event now in its 15th year. We take a look at what happened nationally and locally.
Build the Future was the theme for this year's National Apprenticeship Week. It built on the successful theme launched last year. It was a week of exciting activity across the nation that spread the apprenticeship message and attracted potential future apprentices.
At a national level, as you might expect, government ministers got involved. An email from the Department for Education was sent to schools and colleges containing 2 letters from the Skills Minister, Alex Burghart.
Across the Liverpool City Region local companies took to social media to promote a host of activities. There were more than 28,000 views of the launch video and over 18,000 Twitter mentions. Coverage of national activities across magazines, newspapers, TV and radio included items on BBC News UK, Steph's Packed Lunch and Channel 4.
Hundreds of events, both virtual and in-person, showcased how apprenticeships have helped businesses and encouraged more residents across the Liverpool City Region to explore apprenticeships as a route to enhancing their career. The Apprenticeship Support by Be More Team were very active facilitating morning and afternoon virtual information sessions at schools and Job Centre Plus (JCP) venues. The information sessions covered all you need to know about apprenticeships. They explained what apprenticeships are and how to find them. They delved into the key elements of an apprenticeship, what organisations you'll be working with and what they will expect of you, particularly as you'll be working alongside industry experts every day. There are different levels of apprenticeship. The presenters talked about these and the different skills and qualifications you'll gain as you complete your training.
One of the most innovative events saw apprentices from The Sovini Group, who are members of the Liverpool City Region Apprenticeship Ambassador Netwok, take part in the Seed Bom Challenge in celebration of National Apprenticeship Week 2022. The initiative, run by North West Apprenticeship Ambassador Network (NWAAN), has seen apprentices across the region planting seed boms to highlight 'apprenticeships grow skills'. Lilly Beatham and Olivia Henderson from Sovini Trade Supplies, Max Bounds and Thomas O'Farrell from Sovini Property Services along with Harvey Davies from Sovini Construction, took part in the challenge at Taking Root Community Garden in South Park, Bootle. Taking Root links community growing, food and health projects across South Sefton, focusing on health, well-being and fun. The apprentices will return to the community garden over the next six months to see what they've grown.
National Apprenticeship Week was exciting and helped to raise the profile of apprenticeships, but there is all year round support for people looking for apprenticeships in the Liverpool City Region. The Apprenticeship Support Team by Be More can provide you with impartial advice when you need it and you can find current opportunities on the Be More website.