Will Sophia succeed? A new apprenticeship play for schools.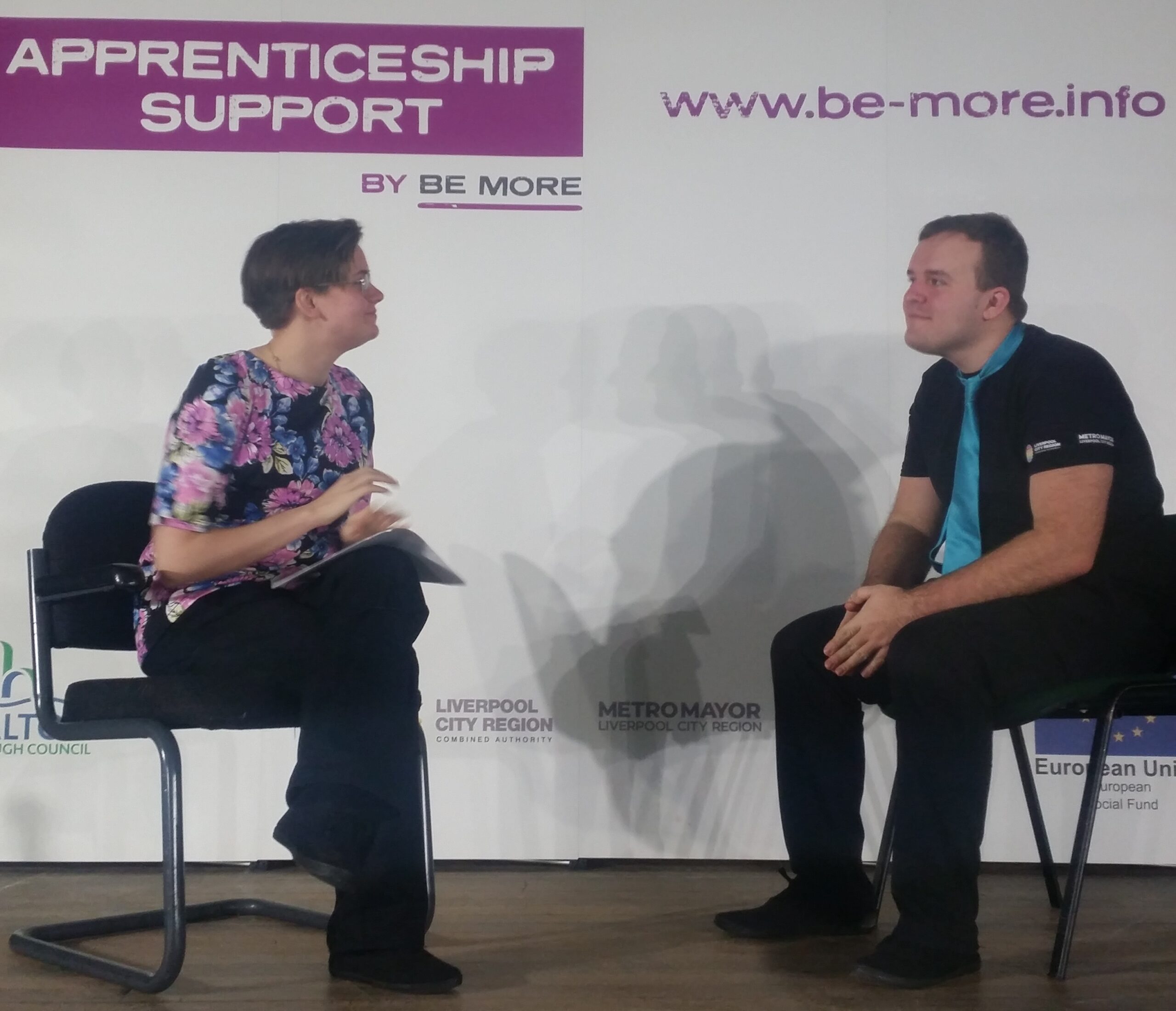 Estimated Reading Time:
4
minutes
One hundred and sixty pupils at The Oldershaw Academy, in Wallasey on the Wirral, began their Monday morning watching Sophia's quest to become an apprentice. Lord Sugar is nowhere in sight. This is the real deal. The 14 to 16 year olds are beginning to learn about career options as they are played out in front of them, literally. "I want to succeed," says Sophia striding across the stage with ambitions to be a fully qualified Fire, Emergency and Security Systems Technician.
You might question the realism of the play initially. How likely is it that a strong, motivated young girl wants to take up a career in electrical engineering? The play is designed to show pupils their options for getting the jobs they want. It shows them what apprenticeships are about if they decide to choose that route to a career. It's also about busting myths and stereotypes. The play was the brain child of Melanie Dodd from Apprenticeship Support at Be More. She informed the script of the play with actual examples of apprentices they have helped to place. Sophia's story is real, although names have been changed.
The play is fast paced, abstract and attention grabbing. It's also delivered professionally for Apprenticeship Support by the Open the Door Theatre Group. They have been scripting, casting and rehearsing since January 2020. "We've been working with Apprenticeship Support closely to create a play that will get pupils asking questions and understanding what's involved in getting an apprenticeship. The situations Sophia finds herself in are designed to bring the competitive world of job hunting to life in front of the audience. Supporting actors play a range of different roles from mates to managers. We also have a hectic schedule with 290 performances planned over the next two years," explains Bob Towers, Director of The Open Door Theatre Group.
The script has been influenced not only by Apprenticeship Support, but teachers across the Liverpool City Region, designed to be relevant for today's pupils. The Oldershaw Academy is the first school to host the play. Alison Hughes, Vocational Education Manager at the school, was quick to book a performance. "I'm always looking for something that is relevant, of good value and professionally delivered. While the performance was free, it has very high production values. It's also a welcome change from the virtual world. The face to face interactive nature of the play and the questions session that follows engages our students much more than material delivered on computer screen. Our students want real life experiences and this play delivers information about apprenticeships in an entertaining way," reveals Alison.
"As an apprentice you learn in a unique way," say's Sophia as the play draws to a close and she directs pupils to the Be More website for lots of information. Off stage, Niamh McCarthy who plays Sophia, reveals how she was inspired to play the leading role after seeing the script: "I've been acting since I was 13 and worked for The Open Door Theatre Company before on school projects. When I read the script about Sophia, I knew I wanted the role. There's something about her character. A determined sixteen year old with a passion for a job in a technical profession is unusual."
While characters around her change, Niamh plays Sophia throughout bringing her own life experiences to the role as a determined young woman. "I want to help students understand there are a number of options to getting great jobs. University is not the only next step from school. If I can get them to find out more about a different direction, a different pathway they can get excited about, then that's a job well done. Sophia shows students that life is about not being intimidated by the size of the task."
Does Sophia become an Apprentice? You'll have to watch the play to find out. Despite being determined, Sophia is under no illusion that it's a tough competitive world and apprenticeships are hard won. Effectively, an apprenticeship is a job with training and employers are looking to recruit the most talented people they can get.
If you are a school and would like Sophia to show your pupils what trying to get an apprenticeship is like then call the Be More team to book a performance on 0800 074 0724. If you are interested in becoming an apprentice, or employing apprentices, then head for the Be More website.