Wirral Met College's new hospitality traineeship programme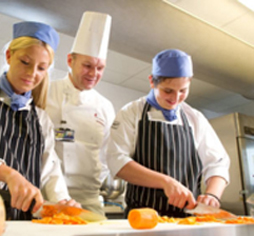 Estimated Reading Time:
4
minutes
As the Hospitality Industry bounces back from COVID restrictions, Wirral Met College's new traineeship programme helps young people take their first steps into this exciting industry.
The UK hospitality industry is bouncing back following severely restricted trading and over a year of closures. However, the disruption saw one in ten staff leave the industry over the year. A survey of hundreds of hospitality operators by an industry trade association reveals a shortfall of 118,000 staff across the sector. The shortage of chefs and front-of-house staff is particularly acute. In response Wirral Met College has launched its traineeship programme for the Hospitality Industry. The ten week programme is designed to give young people across the Liverpool City Region their first step into a rewarding career.
The traineeship sees two iconic organisations working with Wirral Met College to bring new talent into their businesses. Fine Dining restaurant, The Art School will take on chefs and front of house staff through the programme. LEAF has a number of eateries across Liverpool including café and events venues Oh Me, Oh My and One Fine Day. They will be taking fifteen chefs to support their innovative hospitality propositions that include Yoga Brunches, roof top garden lunches, afternoon tea and more.
Jane Edwards, Wirral Met College's Business Development Manager is excited to see the inaugural traineeship programme underway. "The latest research highlights the worrying levels of staff shortages the hospitality sector is continuing to face due to the pandemic. Our traineeship and apprenticeship programmes aim to support Liverpool City Region businesses as they reopen to the public and encourage the next generation of culinary talent.
"We are delighted to be working in partnership with The Art School Restaurant and LEAF, and we have some exciting plans in place to grow the programme with other businesses across the Liverpool City Region. We would encourage any individuals interested in entering this dynamic and rewarding sector to get in touch with us to find out more about starting their career in hospitality."
The 19 trainees will spend 10 weeks developing key skills through working at LEAF and the Art School predominantly, while improving their English, maths and digital skills at Wirral Met College. "Many 16 to 24 year olds are looking to build a career through hands-on, vocational learning, rather than pursuing the traditional academic route. Our traineeship and apprenticeship programmes are ideal in helping to support employers across the Liverpool City Region to train the future stars of the industry. The hospitality sector is passionate about developing new talent and changing perceptions of the industry. It can be a very rewarding and enjoyable career path," reveals Jane.
Paul Askew, Chef Patron at The Art School agrees: "We are passionate about developing and encouraging the next generation, keeping traditions and techniques alive, delivering an outstanding customer experience and championing hospitality as a highly rewarding and enjoyable career of choice. Traineeships and Apprenticeships are an excellent opportunity for anyone wanting a career in hospitality and be inspired and taught by industry professionals".
"Traineeships give local young people the opportunity to get that first step on to the career ladder and we hope that the trainees will flourish with LEAF and become an integral part of our team," added Phil Mackenzie, Executive Chef at LEAF.
If you are interested in applying to be a trainee with Wirral Met College you can apply online.  If you are in the hospitality industry in the Liverpool City Region and would like to find out more about the traineeship programme get in touch with the dedicated hospitality traineeship team.
If you are interested in becoming an apprentice, or learning more about apprenticeships, the Apprenticeship Support by Be More Team provide impartial information and advice on apprenticeships across the Liverpool City Region.