A MAKE-UP ARTIST AND AN ACCOUNTANT TRADE-UP TO APPRENTICESHIPS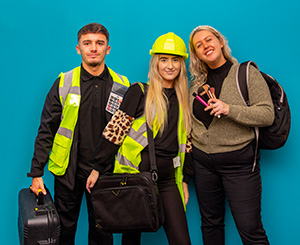 Estimated Reading Time:
5
minutes
Two former students specialising in hair and make-up and accountancy have made career moves from the world of beauty and spreadsheets, into more practical roles based in income generation and site management.
First Ark Group, a Knowsley-based social impact business, is now the borough's most prolific supporter of apprentices, after partnering with Knowsley Works, a service supporting local people into work. Together they have created 20 Apprenticeships. Candidates include Hannah Singleton, 22, a former hair and media makeup college student, who is now an Income Apprentice. Also, Anthony Alan Yates, 20, a former business and management student at Edge Hill University who is working as an Apprentice Site Manager at Vivark.
First Ark Group has been inundated with applications. The chosen apprentices range from school leavers, college graduates and university alumni aged from 16 – 23. The Group has developed Apprenticeship roles across two of its companies – Vivark, offering facilities management services and Knowsley Housing Trust (KHT), the housing provider. Apprentices will work across several teams, including learning and development, compliance, lettings, energy supplies, governance and in the contact centre for 12 months.
Anthony Alan Yates, from Kirby, impressed First Ark Group with his enthusiasm and was offered three different roles. He said:
"I originally followed a traditional career path, going from completing A-Levels at Winstanley College, to a business and management degree at Edge Hill University and then straight into the world of work. Before I knew it, I was being fast-tracked into management at McDonalds, but I didn't feel passionate about it.
"I heard about the KHT Apprenticeship opportunity through Knowsley Council's website and it immediately interested me. My brother is a self-employed joiner, and I'd helped him out over the summer and loved the job – you're out-and-about, meeting people and achieving a visible result. I felt I'd been pushed into uni and realised I'd prefer to do something more practical.
"After being selected by Vivark I was over-the-moon. My day-to-day role involves maintaining all KHT's properties. I'm buddied up with a site manager and assist him when he goes out to meet contractors. I shadow him when he oversees a job and check health and safety elements on-site, for example making sure everyone has the right PPE. At the same time, I'm studying for an NVQ Level 4 in supervision.
"I'm picking up a range of skills on the job and learning so much including how to manage and motivate colleagues, being responsible, how to communicate well, being punctual and good team work."
Hannah singleton, 22 and from Roby, is an income apprentice at Knowsley Housing Trust, who recently travelled the world. She added:
"I left school at 16 after my GCSEs and went straight to college to complete a range of courses in hair and media makeup, travel and tourism and drama. I then decided I wanted to see a bit more of the world and went travelling for two-and-a-half years across America, Mexico, China and Australia.
"I heard about the Apprenticeship opportunity from my mum. She used to work for Knowsley Council in apprenticeships and talked me through the process and how it involved getting a qualification and working at the same time.
"I'm based within the income team and this role involves handling business admin, phone calls, networking and work shadowing my manager. I'm really hoping to get a full-time job at First Ark Group and want to develop a career in finance here."
Tayla Modiak, from Prescot, is one of the few female surveyors within the team at Knowsley Housing Trust. She commented:
"I completed GCSEs and A-Levels at Carmel College but didn't really enjoy the academic life. I knew I didn't want to go to uni and be in debt, I wanted to earn money and work from 9 – 5, rather than studying all hours. My mum spotted the KHT Apprenticeship scheme online and I researched working in the construction sector. I'm a visual and practical learner so an apprenticeship really suits me.
"As an apprentice surveyor, I'm in a fairly male-dominated industry but I see that as a positive as I'm challenging stereotypes.  My Apprenticeship programme so far has seen me getting involved in admin, compiling spreadsheets, updating rental systems, visiting KHT homes and shadowing my manager. I'm hoping to develop my people skills, increase my confidence and learn to adapt to different work environments.
"I'm so excited about the Apprenticeship. My previous job wasn't taking me anywhere. This is a real opportunity to gain experience, learn from mentors within the business and develop a career path."
Léann Hearne, Group Chief Executive Officer at First Ark Group, stated:
"As a major employer in the area, this year we've taken on a record number of local apprentices and met a cross-section of applicants from different backgrounds in Knowsley. The popularity of Apprenticeships demonstrates how employment opportunities have now changed, and their traditional image has shifted, as we've seen more university graduates applying than ever before.
"Applicants are drawn to our positive work environment, the fact we reinvest in the community and the supportive career paths we offer. Our aim is to inspire our future workforce and help apprentices develop their professions through a mixture of on the job training and qualifications."