APPRENTICES POCKET TRAVEL BOOST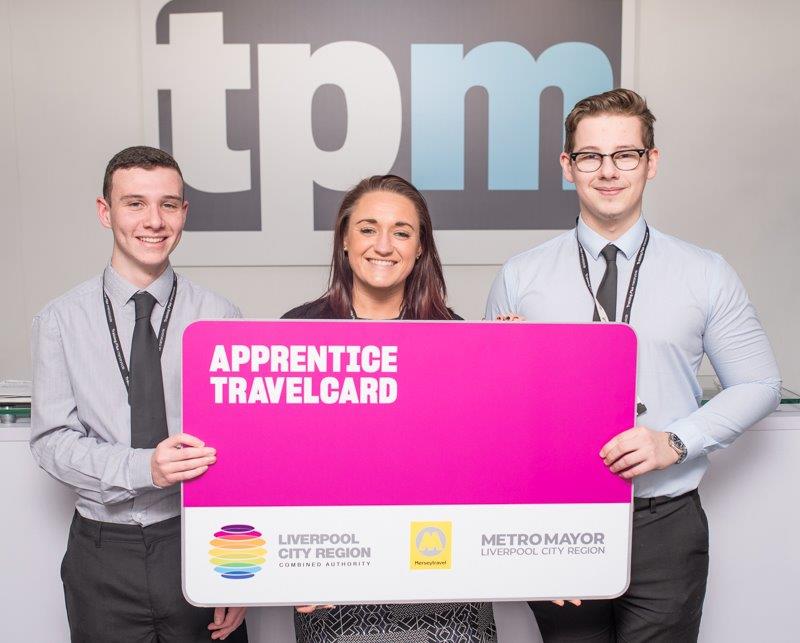 Estimated Reading Time:
3
minutes
An apprenticeship is the first taste of full time work for many. Lots of young people are hungry to get on the career ladder but many can't find a suitable apprenticeship close to home. If travel costs are a deal breaker, dream careers can end up on hold.
Now there is good news for anybody aged 19-24 living in the Liverpool City Region.  Metro Mayor Steve Rotherham has announced half price travel for all apprentices in the age group, boosting the existing scheme that gives 16 to 18 year olds discounted My Travel tickets.
Travel Costs Slashed
Leading regional apprenticeship provider tpm has welcomed the news. 19 to 24 year olds enrolling on a tpm-run apprenticeship to gain qualifications in childcare, business administration, hairdressing or barbering now get their travel costs slashed.
The initiative waves in a new perk for apprentices above the age of 18 – they can now travel by bus for half price. To tap into the discount apprentices need to apply for an Apprenticeship Travel Card from a Merseytravel travel centre.
Anytime Travel
Apprentices can use their discounted bus tickets at any time of the night or day, not just for getting to work and back.  Brian Quinn, a director with tpm says:
"The high cost of travel has limited the choice and opportunity for many young adults wanting to take up an apprenticeship. Now anybody who is willing to work a bit further from home has a more affordable travel option. We often see ideal candidates for the roles we have on offer but travel costs can be an issue. The introduction of half price travel will pay dividends helping us get more young people on the career ladder.'
The new travel pass scheme is just one of the fringe benefits of enrolling on an apprenticeship. Most apprentices can get their hands on an NUS Card. Members of the National Union of Students get great deals across the UK.  Holders of the card receive 10% off on grocery shopping with the Co-op, up to 25% off restaurant food, up to 50% off computing software alongside some great deals on mobile phones and technology.
Great Jobs on Offer
With apprenticeship positions waiting to be filled at some great employers, tpm is backing the promotion of discounted travel. At the moment they have over 40 apprentice vacancies across the region. Most of them are on bus routes making it more viable for candidates from further afield to apply. Anybody who would like to know more about apprenticeships or the new travel discount should get in touch with them today.
Brian adds:
'The scheme is live now and it is one of the best in the country.  Any apprentice living in the Liverpool City Region enrolled on an approved course, like the ones we offer at tpm, will be much better off. The scheme boosts getting people aged 19-24 into work. Anybody who is eligible should get the ball rolling by visiting a Merseytravel Travel Centre."
To find answers to frequently asked question and check what documents are required to apply for a car visit the MerseyTravel website.