APPRENTICESHIP SUPPORT FOR SUMMER CAREERS FAIRS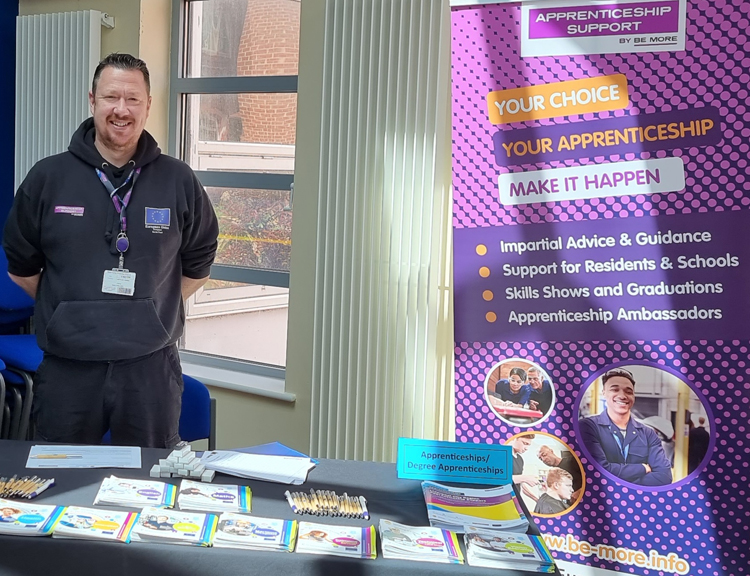 Estimated Reading Time:
3
minutes
As exams approach the Apprenticeship Support by Be More Team visit school careers fairs across the Liverpool City Region to discuss apprenticeships.
Several schools this month are holding career fairs ahead of examinations to allow pupils to explore career opportunities and make choices about their future in the work place. While University is often the aspiration for many pupils leaving school, many are looking for a career path that does not encumber them with debt after graduation.
Anthony Hamer, Be More Skills Broker was at West Kirby Grammar School on the Wirral this month. Pupils from Wirral, Chester, North Wales, Liverpool, Warrington and beyond attend the school. Choice is at the heart of their philosophy, particularly when looking at the next steps in sixth form.  Laura Marley, Assistant Head Teacher, has organised a Summer Programme that includes two afternoon careers fairs attended by the Apprenticeships Support by Be More Team.
"It's important that our pupils are aware of all the options they have for advancing their career. These events create a great opportunity for them to talk to past pupils, university and college representatives together with local organisations informally. They can explore first-hand, from a range of areas, about studying certain subjects at university or what certain careers involve and the pathway to those careers," explains Laura.
The Apprenticeship Support by Be More Team spent two afternoons answering pupil's questions about apprenticeships and how they work. "The most interest was about degree apprenticeships and how they differ from the traditional route to university. The degree apprenticeship offers a powerful combination of working in a company while studying for a degree. It brings two main benefits, the first being extensive practical experience working in a company that a traditional academic route does not incorporate. The second is that the company pays for the qualification, so pupils do not emerge with a student loan. The financial benefit is substantial and the working experience provides a competitive advantage at interview for jobs once you are qualified. The other advantage is that the company you work for during your apprenticeship has invested in you and is most likely aiming to employ you post apprenticeship. In many ways degree apprenticeships can accelerate your career path," reveals Anthony.
West Kirby Grammar School believe passionately that every student should benefit from a wealth of choice.  That's why they offer a broad curriculum of subjects alongside an array of enrichment and leadership opportunities. "Throughout our lives, the choices we are presented with, and the choices we make, help to shape our futures and define who we become. Our careers fairs have helped to inform their career choices and routes to achieve these in the future. Some will head for university, others will explore apprenticeships including degree apprenticeships.  Whatever they choose, these events have given students a flavour of their options for the future," says Laura.
If you would like further information on apprenticeships and how to apply for them, talk to the Apprenticeship Support by Be More Team. The team is funded by the European Social Fund & LCR Strategic Investment Fund and provides impartial information and advice on apprenticeships across the Liverpool City Region.