APPRENTICESHIPS UNDERPIN SUCCESSFUL CAREER PATHWAYS IN ACTIVE LEISURE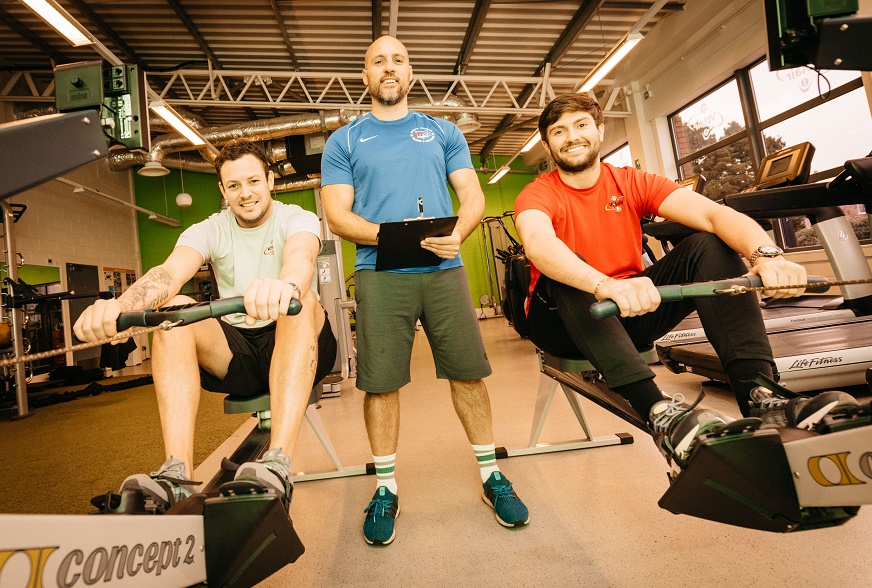 Estimated Reading Time:
4
minutes
Two apprentices about to complete their level 3 qualifications are the latest in a string of success stories resulting from the partnership between pioneering apprenticeship provider Fit UK and Knowsley leisure services giant, Volair.
Sean Fairclough and Andrew Downing (pictured above with Mike Ward, Fit UK tutor), both from Knowsley are in line to gain their level 3 apprenticeship in Instructing Fitness and Physical Exercise.  The duo are already employed as full time fitness instructors by Volair, and are about to complete their apprenticeships after following a programme of training and support delivered in their workplace by Fit UK.
Multi award winning training provider Fit UK specialises in professional career training for the active leisure sector. Established in 2009, they offer a range of apprenticeships in sports coaching, exercise and fitness instruction, and leisure management. Based in Knowsley, they also offer private courses and CPD programmes for professionals in the fitness industry.
15 apprentices
Fit UK have been working in partnership for several years with Volair who offer the largest range of health & fitness facilities and activities in Knowsley. Employing over 200 staff, Volair chose to team up with Fit UK who now deliver a wide range of specialist in-house training for them including apprenticeships. To date over 15 apprentices have qualified as a result of the Fit UK Volair partnership, with many more staff completing other career development courses.
Alan Reddin, director with Fit UK spent more than a decade working in Leisure and Youth Services with Knowsley Council before setting up the specialist training provider. He has a clear understanding both of employer needs, and how to help school leavers and others build successful careers as fitness instructors, leisure centre managers and other professionals in the active leisure sector.  Apprenticeships provide the ideal tool for supporting both employers and individuals with their skills development needs. He told us:
"Our apprenticeship programmes have been designed to develop skills that are highly relevant and can quickly be put into practice in the workplace. Apprentices training with Fit UK gain qualifications that enable them to carry out fundamental roles in the industry so their employers soon reap the benefits.
Winning formula
Fit UK uses a formula that has scored approval from Volair.  Manager with the organisation, Shirley Buxton rubber stamps the approach:
"The apprentices we employ are members of staff who we want to develop quickly so they can assume responsibilities. Fit UK understand this and have structured their training so the apprentices quickly gain the skills they need to make a positive contribution at work. In addition, our working patterns can present a challenge when it comes to fitting in with training courses. But Fit UK deliver their training and support, working round our apprentices' shifts and work priorities so that there is minimum disruption to our services and routines."
Long term career
Sean explains how his apprenticeship has greatly enhanced his professional skills:
"My apprenticeship has offered a structured way for me to learn new skills that I could apply in my position at work. It's great to be able to put into practice what you learn right away. It's also enabled me to take on more responsibilities in my job and think about my longer term career."
Apprenticeships provide sound foundation
Siobhan Saunders, chair of Liverpool City Region Apprenticeship Hub, highlights how apprenticeships provide a sound foundation for a career in the active leisure sector:
"Many people aren't aware of the career opportunities within this growing sector. It's an industry that's really suited to people who prioritise health and wellbeing, and who enjoy motivating and encouraging others, making a positive difference. Training providers like Fit UK, through Apprenticeships, help professionalise the job opportunities within the sector, offering recognised skills and a pathway to progress into a respected and fulfilling career."