LEARN HOW TO SUPPORT NEURODIVERSE COLLEAGUES?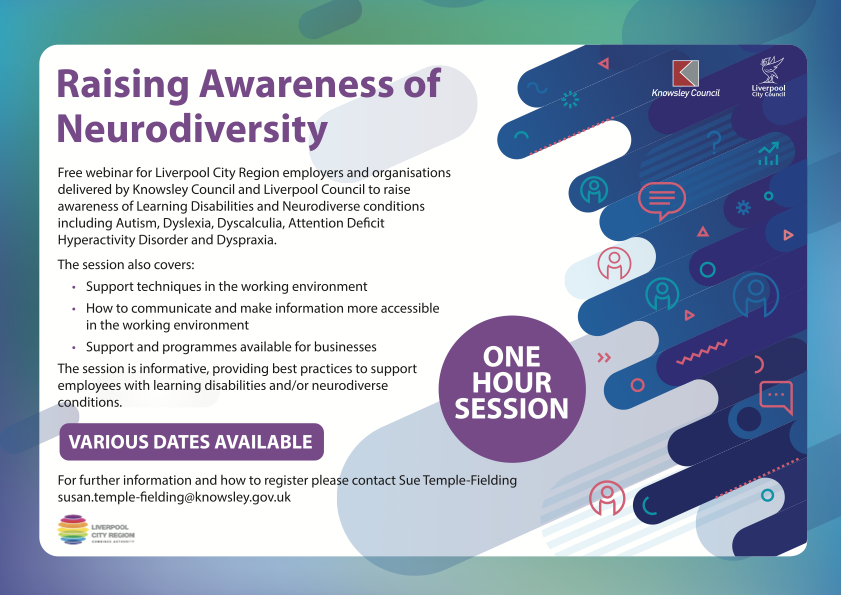 June 23, 2023
Add to Bookmarks
Help your organisation improve their knowledge on neurodiversity with this FREE webinar…
Estimated Reading Time:
< 1
minutes
Do you want to raise awareness of neurodiversity?
It is important that everyone is included and given a far opportunity so that everyone who is neurodiverse receives the help they need to thrive in the workplace.
To help your organisation improve their knowledge on neurodiversity you can join a free webinar is being delivered by Knowsley and Liverpool council to help raise awareness of learning disabilities and neurodiverse conditions including Autism, Dyslexia, Dyscalculia, attention Deficit hyperactivity disorder and Dyspraxia.
The session covers:
Supporting techniques in the work place
How to communicate and make information more accessible in the working environment
Support and programmes available for businesses
The session is informative, providing best practices to support employees with learning disabilities and/or neurodiverse conditions.
There are various dates available!
To find out more email [email protected]