EFT SYSTEMS ENCOURAGES BUSINESSES TO PROMOTE THEIR INDUSTRY AND AVAILABLE CAREER PATHWAYS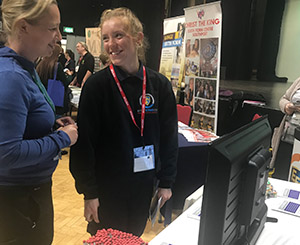 Estimated Reading Time:
3
minutes
As a leading organisation within the fire protection and security systems sector, the EFT Group have actively promoted their Apprenticeship job roles across the Liverpool City Region for several years now. They are keen to raise awareness of how important it is for other companies, especially those with skills shortages, to get involved.
EFT Systems have had a number of success stories where school children have been inspired by either a careers talk or a careers activity presented by EFT apprentices within their school or sixth form setting, and they have gone on to apply for an Apprenticeship role with EFT Systems.
Mollie and James are just two of the apprentices employed at EFT who have been through this experience. Recently they have been back at their old schools, engaging with current students to raise awareness of EFT and the Apprenticeship job roles available. James spoke highly of his experience as an apprentice:
"At first I had my mindset on finding an Apprenticeship with a national company, but after EFT delivered a presentation at my school, I realised that I would rather work for a smaller, family-based company with a friendly atmosphere, where you are more than just a number. I am looking forward to completing my Apprenticeship and becoming a fully qualified engineer".
Director at EFT Systems Jordan Duggan advises
"45% of children statistically decide on their futures based on what they see on TV, film or social media, and these are often unattainable jobs. Only 1% of children determine their future career based on someone visiting their school. This is why it is so important for them to be more exposed to different businesses and for them to be able to link their learning to their futures.
"In my role as an Enterprise Advisor and as a Liverpool City Region Apprenticeship Ambassador, it makes perfect sense for us to see what EFT could give back to our local schools and young people. It is vital that we, as businesses spend time within schools to raise awareness of different job opportunities and educational paths. In my opinion, there is no better person to speak to a school student than an apprentice who was in their position only a year or two before. As a company, we have found this to be a vital way to engage students and bust myths around STEM-related careers. The more other businesses are encouraged to get involved in these projects, the more we as businesses will benefit.
"Whilst giving back we are also able to build future capacity and a talent pipeline to help us with the skills shortage in our industry whilst growing a more diverse and inclusive workforce, it really is an extremely positive project for everyone involved."