LCR PROVIDERS COMPLETE LOTTERY-FUNDED PROGRAMME IN MENTAL HEALTH TO SUPPORT APPRENTICES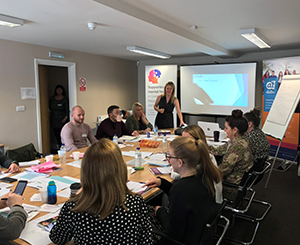 Estimated Reading Time:
3
minutes
GMLPF members completed the second day of a two-day training course in mental health awareness last week.  The course equipped them with a formal level 2 qualification and the skills to champion and "triage" mental health issues with apprentices and other learners.
Eleven member organisations enrolled on the two-day training course, delivered by AT Skills.  The initiative is part of the GMLPF Minds project that has received nearly £10,000 from the National Lottery Community Fund.
GMLPF's successful bid for funds has so far enabled research into mental health in the Liverpool City Region skills sector as well as subsidising this mental health awareness training for providers. Also, the region's apprentice ambassadors recently undertook mental health awareness training thanks to this Lottery-funded project.
Over the past year, GMLPF members have reported significant mental health issues among their students, and more recently, their staff.  This course has helped providers to start tackling the problem. They are now able to recognise the symptoms of poor mental health promptly.  Ian Lomas, chief executive of GMLPF, explains:
"More than eight in ten of our members have reported that the mental health of learners has an impact on programme delivery.  Staff are spending a significant number of hours tackling the problem while learners are suffering. A similar number say problems are piling up and affecting the mental health of staff as well. The training aims to create a better and more productive learning environment for everybody."
Those completing the course gain a Level 2 in Mental Health Awareness awarded by Active IQ.  Ian adds:
"The strain on resources in the sector is reaching unprecedented levels.  Mental health challenges are adding to this.  We're putting this National Lottery funding towards relieving the pressure and boosting the number of students who complete their apprenticeship or other training."
The learning providers who attended last week's course included Andrew Collinge, Halton Council, Liverpool Football College, Myerscough College, NTG Training, North West Community Services, North West Training Council, Onside Education, Rocket Training and The Engineering College.
Annette Swinnerton from North West Community Services told us:
"The course has provided me with time away from the workplace to stop and take stock of the issues.  I'll now return to my job with much more understanding and an objective approach. The training gave me new skills and I've more knowledge about signposting people for assistance.  I want to use what I've learnt to help colleagues, apprentices, and other learners."
The two-day course ran at The Maggie O'Neill Community Resource centre in Knowsley on Wednesday 17th and 23rd October. There is an additional course running in November.