Learners in Lockdown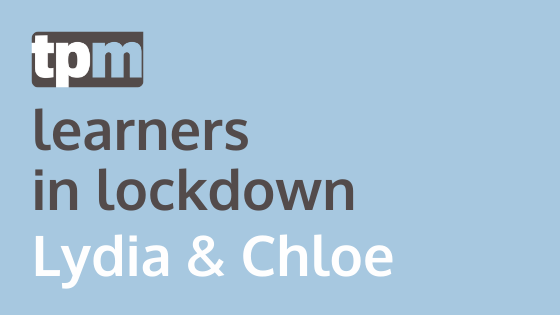 Estimated Reading Time:
5
minutes
Lydia – Apprentice Lydia Barnes works at Little Angels Nursery and is completing her level 2 Childcare apprenticeship with tpm. Although her nursery is still open, it is only open to the children of key workers. Despite not being able to attend the tpm training centre, Lydia is striding ahead with her apprenticeship training. For the lockdown period, tpm is providing all its training programmes virtually so apprentices and other learners can progress as usual. This includes regular zoom sessions with tutors.
Remote learning – At first, Lydia was concerned with how she would get on with remote learning:
"I was a bit worried because I'm the type of learner that prefers direct instruction. Reading through lots of material isn't really my thing. I was also worried that I wouldn't have access to the help I normally do from my tpm tutor."
Podcasts – Lydia's concerns soon dissipated when she realised she would continue to get great one-to-one support from her tutor virtually. She was also relieved that resources created for her by tpm tutors suit one of her preferred methods of learning: listening.
"My tpm teacher, Natalie, made podcasts to help us during lockdown. These go through everything, step by step, just like Nathalie would if I was in a normal session with her at tpm. The podcasts gave me the confidence to work through things myself at home.
"I've also had the support of my tpm tutors, Loretta and Stephen. They've always been helpful to me. I can be a bit of a worrier and they are always there for me. That hasn't changed in lockdown. When I was struggling to get on to an online session, Loretta rang me and explained how to access it. All the staff at tpm still have time for me and still give me all the support I need."
Regular check-ins with for every learner in lockdown – Lydia is now well on her way to completing her course and has just finished a module on partnership working. She is getting to grips with podcasts and remote online sessions. She finds it particularly helpful that staff regularly check in on her and other learners through the e-portfolio and online platform. With her determination and positive, happy attitude, along with the continued support of her tutors, Lydia will have no problem continuing as a successful learner in lockdown and beyond.
Chloe – Here's some lockdown inspiration from Chloe, a tpm childcare apprentice who has achieved great things despite the obstacles thrown in her way by the current crisis
Determined to finish Apprenticeship – Chloe McGuiness works at Sandfield Park Day Nursery in West Derby. She has just completed her level 3 Childcare Advanced Apprenticeship. Before the crisis, she was enjoying her course and clearly felt well supported by her tutors:
"If there were ever any worries or questions we had regarding work set, or even regarding private issues outside of college, I felt that tpm tutors were genuinely concerned and would help to the best of their abilities."
Everything was going well for Chloe at work too. Her manager ensured she had enough time to prepare for her trainer's visits and to complete assignments. Even a move from her previous nursery to her current one last autumn went smoothly. But then in March, a sudden chain of events threatened to bring Chloe's progress to a grinding halt. Firstly, her brother showed symptoms of Covid19, so she had to self-isolate for two weeks. Thankfully, her brother was fine, but Chloe was worried about how her absence was affecting the children she works with 1-to-1. Chloe was then dealt a further blow as the country went into lockdown and her nursery shut. But this just made Chloe all the more determined to succeed as a childcare apprentice.
"I couldn't stop worrying about work and how the six children with special educational needs (SEN) who I work with would cope. This drove me to keep going and finish my Apprenticeship. Finishing the course would give me the reassurance that I was doing something right, even though I can't show my skills' in-person' at the moment."
Remote learning – Chloe had to complete some of her training remotely and rely on technology to communicate with her tpm teacher and trainer, Loretta.  Her hard work and resilience paid off. With the help of Loretta, she was even able to complete her L3 advanced childcare Apprenticeship a little early.
Chloe now has a very bright future ahead of her, and she is excited to continue in her role working with SEN children. She loves working with her six key children and helping them to develop their communication and other skills. Chloe is keen to continue with her own development and is looking for higher-level courses she can complete alongside working in her current job. For starters, she's planning to do one of tpm's recently launched short online CPD courses. With her tenacity and motivation, and a tpm Apprenticeship under her belt, there is no doubt Chloe can achieve whatever she puts her mind to!