MEET THE BRANDS EMBRACING MARKETING APPRENTICESHIPS TO CAPTURE NEW TALENT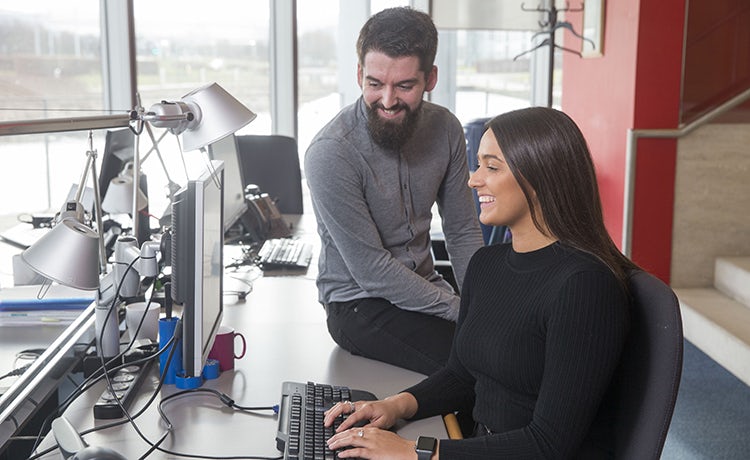 Estimated Reading Time:
10
minutes
An increasing number of high-profile brands are expanding their marketing talent pool by recruiting apprentices who want to hit the ground running.
BT is looking to add more than 1,600 new apprenticeships and graduate jobs.
Brands are waking up to the power of marketing apprenticeships to unlock the next wave of talent. Whether it is 18-year-olds looking for a hands-on alternative to university or someone older seeking a change in direction, apprenticeships are emerging as a different route into the marketing industry.
A quick look at the government apprenticeship website reveals a number of brands and agencies looking to recruit digital marketing apprentices, including Unilever, Vodafone, Made.com, auction house Christie's London and media agency Zenith Optimedia, with annual wages ranging from £14,000 to £18,500.
Unilever is currently recruiting for a Level 3 digital marketing apprentice and Level 6 digital marketing degree apprentice. Starting in September, the Level 3 programme is pitched as the first step in a career in digital marketing, while the Level 6 apprenticeship aims to equip the learner with the skills required to lead on the "creation and execution of a digital marketing strategy".
Vodafone, meanwhile, is advertising for an 18-month Level 3 digital marketing advanced apprenticeship. The job description states that 12% of the training will take place in a learning centre classroom, while 8% is done in the workplace, through workplace units, face-to-face meetings with the assessor and developing the portfolio. The rest of the time is spent working in the role.
Virgin Atlantic and the Prince's Trust have chosen a different route, becoming long-term collaborators of the Marketing Academy Foundation, a charity supporting young people's access to marketing apprenticeships. There are currently two apprentices working at the Prince's Trust and two at Virgin Atlantic.
"We've got great role models in the company that have come up via the apprenticeship route and we know that they are valuable to our organisation."
Ann Potterton, BT
In the case of Virgin Atlantic, both apprentices are studying for the IDM (institute of direct and digital marketing) data-driven marketing award. They have been given the opportunity to work in several different departments in order to gain a broader experience of marketing.
The foundation is now recruiting for a further three apprentices to join building society Nationwide and creative agency Karmarama. Nationwide believes opening up the workforce through marketing apprenticeships will help ensure people from all backgrounds have the same opportunities to join the team, explains senior marketing manager, Chris Clayton.
"By partnering with the foundation we are hopefully playing a role in helping people to shine while at the same time injecting new energy, and a fresh, creative approach to marketing," Clayton adds. "Having diversity of thought and ideas is crucial for any marketing team looking to successfully communicate with new and existing audiences."
Over the past couple of years, Daryl Fielding, CEO of the Marketing Academy Foundation, has seen companies become much more open to the concept of hiring a marketing apprentice. Based on the pipeline of other organisations interested in taking part, she expects to recruit another five apprentices by the second half of this year.
"We're seeing a willingness on the part of host companies to take an apprentice and the other agenda that's helping us massively is the fact people are more aware that they lack diversity in their organisation and this is one way to tackle that," she notes.
In each case the foundation acts as the employer and the brand acts as the host company, which removes the risk for the business as it does not need to worry about its head count requirement. Similarly, if anything were to go wrong the liability would sit with the Marketing Academy Foundation.
Alongside ensuring the apprentice is properly trained and supported, the foundation provides them with mentors, carries out "CV pimping" and interview bootcamps.
The growing popularity of apprenticeships is also being seen in the agency world. Two years ago Publicis Media took on an initial cohort of 11 apprentices known as 'pioneers', and guaranteed them a job at the end of the 18-month scheme. Last year this number increased to 20, as Publicis scrapped CVs in favour of assessing young people based on their potential. There are now 40 'pioneers' set to start in 2019.
Leading the charge
In a major step forward for the adoption of marketing apprenticeships, this week standards were approved by the Institute of Apprenticeships for a Level 4 marketing executive programme and Level 6 marketing manager programme.
Whereas previously there were frameworks available for marketing apprenticeships, which had the potential to lack consistency, the government-approved standards send a clear message of what employers want from apprenticeships, says Maggie Jones, director of qualifications and partnerships at the Chartered Institute of Marketing (CIM).
There are currently 30 people enrolled on the marketing executive apprenticeship and more than 15 on the marketing manager programme. In the coming months a further 50 apprentice marketing executives and 70 apprentice marketing managers are expected to join.
While the duration of the apprenticeship depends on the needs of the learner and their organisation, the Level 4 programme will typically last between 15 and 21 months, while the Level 6 takes 24 to 30 months. A Level 3 marketing assistant apprenticeship is in development, which it is hoped will be ready for launch in June.
The standard was developed by the CIM and a group of brands including Clarks, British Airways and BT, in order to ensure both programmes work for employers.
BT has been committed to apprenticeships for more than 60 years, although historically apprentices were largely recruited into more technical roles. However, last month the telecoms giant announced its intention to create more than 1,600 new apprenticeships and graduate jobs – some of which will be in marketing – to add to its 80,000-strong UK workforce.
Just three apprentices were accepted in the first cohort studying the Level 3 digital marketing apprenticeship, which is equivalent to an A-level and lasts for 15 months. Following the success of the first recruits, whose apprenticeships are now drawing to a close, BT hired an additional 18 apprentices to join the second cohort in 2018.
The company is now in the process of developing its first digital marketing degree apprenticeship, which is expected to launch in 2020. The programme will last between three and four years and cover the digital content in the Level 3 qualification, alongside planning, strategy and campaign management.
"Having diversity of thought and ideas is crucial for any marketing team looking to successfully communicate with new and existing audiences."
Chris Clayton, Nationwide
Head of apprenticeships Ann Potterton explains that BT will use the marketing apprenticeships to fill any skills gaps within the business and fast track young talent.
"The obvious thing is it brings new people with bright new ideas in things like digital marketing. You're getting young people who are closer to those skills than other people in the team," Potterton says.
As apprenticeships have been part of the BT culture for six decades there are many senior role models in the business who prospered via the apprentice route. Potterton points to the fact there are several senior directors in the business who are ex-apprentices.
"We celebrate apprentices and graduates, and give them both the recognition they deserve," she adds. "We've got great role models in the company that have come up via the apprenticeship route and we know that they are valuable to our organisation."
First-hand view
One such apprentice is Amy Bayes, one of the first young marketers accepted to BT's Level 3 digital marketing apprenticeship programme on a £15,000 starting salary.
Coming to the end of sixth form Bayes, now 19, decided that university was not for her. Realising that she learns a lot faster by being hands-on, she decided an apprenticeship could be a good fit, although at the time she did not know what a marketing role might look like.
"I was quite interested in the social media side of things and when I was applying for roles I did a lot of research into what marketing was," she explains.
"I knew social media linked into marketing, but I didn't know the ins and outs and the different kinds of areas you can go in marketing. I didn't have a lot of understanding of it really."
The size and scale of the BT business really appealed, as Bayes believed working in a large organisation would give her the room to learn and explore. After the initial application stage, she went through to a video interview and then a group assessment day at the BT centre with other candidates.
Once she was selected as one of just three apprentices, Bayes started out shadowing her manager and learning about the different projects and campaigns she worked on, before being given the opportunity to get hands-on.
"They trusted me from the start. As soon as I came in I really felt part of the team. Other apprenticeships can be a bit different and apprentices can feel like outsiders, but they really involved me in a lot of the different projects they were working on and brought me into meetings to learn," she states.
In her role as TV and sport digital marketing optimisation manager, Bayes is tasked with preparing and delivering marketing campaigns on a monthly basis, as well as maintaining sections of the BT website. She is also responsible for developing new ideas to ensure BT takes an innovative approach to campaigns, as well as taking into account new trends and tactics.
"I love that I have the ability to plan, create and execute marketing campaigns and the opportunity to work with a wide variety of content so early in my career. It's also brilliant that I get to create new and innovative ways to improve campaign performance, all while being able to count on the support of the team around me," Bayes explains.
"I work in an extremely competitive industry so keeping up to date with what our competitors are doing and making sure we stay on top of our game is probably the biggest challenge. We always need to be tweaking and testing, to make sure we never stop improving."
Now coming to the end of her apprenticeship, Bayes will submit a portfolio of work from four main projects, after which her apprenticeship advisor will put her forward for an end point assessment.
This assessment will involve talking through her portfolio and employee reference, which will then result in a grade at the end of the apprenticeship.
Bayes believes that embarking on an apprenticeship is a brilliant way for young people to kick-start their career and gain the opportunity to learn, while earning a salary.
She hopes to stay in the BT business and continue to work in the digital optimisation team as a fully-fledged online marketing manager
Source: Marketing Week (https://www.marketingweek.com/2019/03/07/brands-embrace-marketing-apprenticeships/)