Reece Buckley delights Liverpool ONE customers throughout his Apprenticeship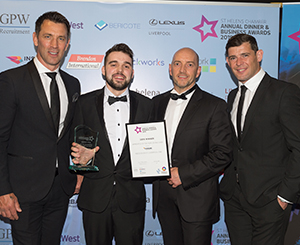 Estimated Reading Time:
4
minutes
As the winner of St Helens Chamber Business Awards "Apprentice of the Year Over 20", Reece Buckley has quickly become a key member of the Customer Service team at Liverpool ONE.
While training with St Helens Chamber, Reece gained the qualifications and knowledge he needed to succeed in his Apprenticeship role and has been impressing his colleagues and managers ever since.
Reece explained: "I studied Law at university, but after around a year I came to the conclusion that it was not what I'm best suited for. So, I pursued an Apprenticeship in IT, before falling in love with the idea of a customer service career after completing a fast track course with St Helens Chamber."
Reece started his customer service Apprenticeship training with St Helens Chamber and realised that learning on the job at Liverpool ONE while training was a good fit with his learning style.
Reece commented: "The training I received was exceptional. I was well looked after by my line manager Andy and my Training Adviser David. David was eager to invite me to Chamber seminars to improve my training and often encouraged me to go for more advanced roles in the company
"My training led to me getting a full-time role with Liverpool ONE once my Apprenticeship had finished, of which I am highly grateful for."
Andy Kelly, Customer Service Manager at Liverpool ONE, was impressed by Reece's professionalism and drive from day one.
Andy explained: "Reece shone at interview level. His group interview was flawless, especially for somebody who had little experience in that environment; the decision to hire Reece was one of the easiest (and best) that I've made."
Reece's Apprenticeship training, along with his dedication and positive attitude, has unlocked his potential and given him the chance to showcase what he can do in the workplace.
Reece explained: "My Apprenticeship allowed me to understand how to satisfy customer needs and deliver a service that benefits the customer and company; and I put this into practice every day by trying to go above and beyond for customers. For example, I've escorted customers to a store and recommended products, escorted them to a visitor attraction and even attempted to communicate with foreign visitors in their native language."
Throughout his Apprenticeship, Reece has risen to any challenges faced and has been able to bring innovative solutions to his employer's issues.
Andy commented: "We had a problem of how to activate 650 gift cards with only the first and last card available in the chain. Running the sale through normally presented us with an error as it was too many gift cards to activate at once.
"Reece took it upon himself to work out the sequences of the 16-digit numbers of the cards and activate them in smaller batches. His reasoning was sound, and it worked, giving us a £40,000 sale and putting my colleagues and me to shame as we struggled to find an alternative option. It was something I'd expect from a codebreaker at Bletchley Park!"
Reece is thriving in his Apprenticeship and feels that the modules covered in his training have helped him successfully navigate the often unpredictable customer service industry.
Reece commented: "During my Apprenticeship training, I've studied modules that focus on understanding our customers' needs, and I use this training to give customers the best service possible.
"Dealing with difficult customers is also crucial to my role, so my training in this area means I can also handle complaints confidently."
Reece's ambition and natural ability to build rapport with customers mean he is a highly valued member of the team at Liverpool ONE, who hope he stays with them and continues developing his career.
Andy commented: "His personality is infectious, and he raises the spirits of those around him. The morale and camaraderie amongst my team have never been better, and Reece deserves credit for that. He's one of the key players in a ten-person team and is a shining example of what I look for in an apprentice and is a credit to himself and Liverpool ONE.
"I believe that his Apprenticeship training is responsible for allowing his confidence to flourish and this combined with his training on the job have given Liverpool ONE an outstanding apprentice."