TEACHER TRAINING FOR CONSTRUCTION INDUSTRY EXPERTS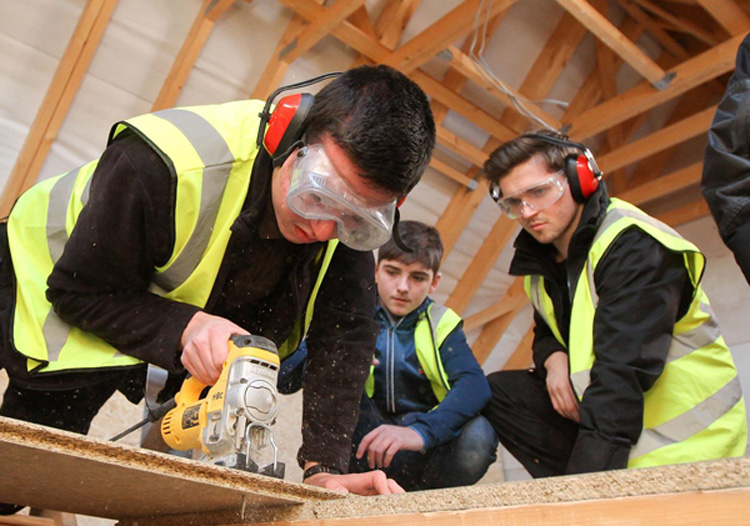 June 7, 2023
Add to Bookmarks
Liverpool City Region is developing a 15 year strategic plan to ensure it continues to be the best possible place to live, work, invest in and visit…
Estimated Reading Time:
3
minutes
Liverpool City Region is developing a 15 year strategic plan to ensure it continues to be the best possible place to live, work, invest in and visit.
New energy efficient homes, great healthcare facilities, and places for innovative businesses all form part of this proposed strategy. Making the strategy happen will require more skilled construction workers. We look at a new initiative to find and train Liverpool City Region talent.
There is a skills shortage in construction across the Liverpool City Region at the moment. To plug this skills gap a forward-thinking initiative called 'Tools to Teach' has been created. It is encouraging experienced construction and engineering professionals across the Liverpool City Region to train to teach the next generation of skilled construction workers. 
Further education colleges across the Liverpool City Region have joined forces to recruit construction industry experts who can pass on their skills. Wirral Met College, Hugh Baird College, The City of Liverpool College, Southport College, Riverside College, and St Helens College are providing on-the-job teacher training, so experienced professionals to help build tomorrow's workforce. These new training professionals will prepare young people for future jobs by teaching courses ranging from construction, engineering, building and carpentry to joinery, plastering, plumbing and painting and decorating, as well as gas and electrical services.
The colleges have been running Tools to Teach open days for construction and engineering professionals, who are considering a career move into teaching. At these events they have been discussing the opportunities available for experienced industry professionals about the various options to teach either full-time or part-time role alongside current work commitments.
They are keen to point out that you don't need a degree to start teaching in further education. It is more about the ability to connect with young people and a willingness to share your experience and expertise. If you are passionate about what you do, have industry experience and a relevant trade qualification then this initiative is worth a closer look. Many of the construction and engineering experts teaching in colleges at the moment began their careers as apprentices and now enjoy inspiring and training a new generation to work in the construction industry.
Current teachers on the Tools to Teach Initiative describe the work as highly rewarding. They are guiding students aged 16 to 18 as well as adult learners through practical demonstrations in specialist workshops and developing their skills and knowledge in the classroom. They love seeing their students gain skills, progress and emerge as apprentices with industry recognised qualifications. Teachers in further education enjoy a salary of up to £42,000 per year with a generous pension scheme and flexible working hours.
The construction opportunities over the next 15 years across the Liverpool City Region (LCR) are vast. The Tools to Teach initiative will ensure that the future workforce taking advantage of these opportunities have trained in LCR colleges and continue to live and work in the region. If you would like to play a significant part in developing local talent in the industry you have experience in then take the first steps by exploring Tools to Teach.
https://wmc.ac.uk/toolstoteach
https://applybe.com/the-college/search/results/all/1
https://www.southport.ac.uk/work-for-us
https://external.riverside.ac.uk/jobs-vacancies/Default.aspx
https://www.networxrecruitment.com/v?id=STHELENSCOLLEGE&t=st-helens-college-careers