THE CAREERS OF FAMOUS PEOPLE FROM LIVERPOOL: BETH TWEDDLE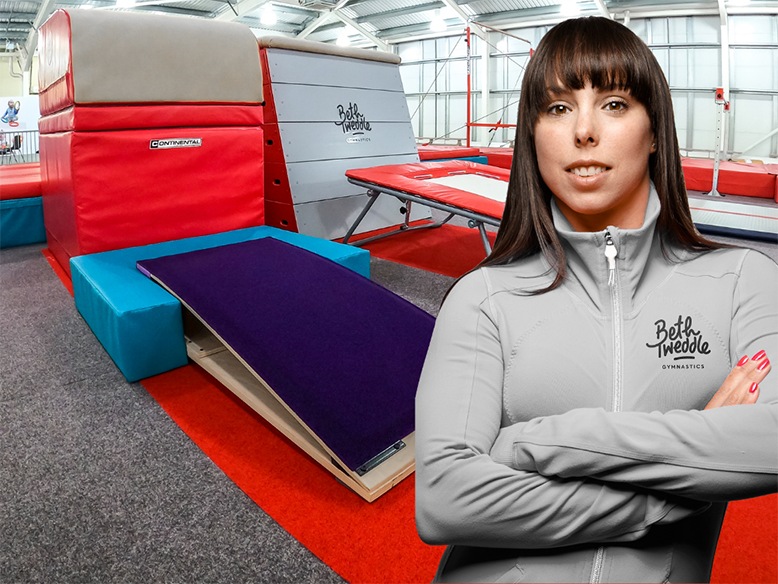 November 1, 2022
Add to Bookmarks
As Liverpool hosts the World Gymnastics Championships, we take a look at the career journey of Olympic Gymnast, Beth Tweddle…
Estimated Reading Time:
5
minutes
We take another look at famous people who began their career in Liverpool.
As Liverpool hosts the World Gymnastics Championships, we take a look at the career journey of Olympic Gymnast, Beth Tweddle. We talk to her about what it takes to be an elite gymnast and her current roles as both a business woman and television sports commentator.
Beth Tweddle was born on 1st April 1985 in South Africa and moved to Cheshire when she was just 12 months old. She admits that she was an energetic child. "My Mum and Dad encouraged me to try lots of different sports and activities to use up all my excess energy. I tried horse riding, ballet, hockey, swimming. Then, when I was seven I tried gymnastics and really loved it," recalls Beth.
Her love of gymnastics, her talent for it, and her perseverance saw her progress into elite gymnastics very quickly. By the age of 12 she was one of the top 6 in the country and placing high in national competitions. "I'm a perfectionist and I think that helped. I kept challenging myself to learn new things and keep improving what I was doing. A love for gymnastics and a passion to work hard at it brought results. That mindset works for success at anything from sport to business. With persistence and commitment you can achieve great things," Beth suggests.
In 1997, Beth moved from Crewe and Nantwich Gymnastics Club to the City of Liverpool Gymnastics Club to train with Coach Amanda Reddin.  "I spent the first 18 months training at Liverpool just enjoying gymnastics. While the goal was to compete at elite level there was no pressure, just a great environment with lots of other talented gymnasts, first class facilities and of course a great coach," she said.
This marked the beginning of the journey to her medal winning career as part of the national team.   "In a major championship there are 4 or 5 of you. When I was first on the team I'd be on first or second to make sure we had a solid set of marks. Initially it's about getting the job done. The best in the team go last to build on the scores. You know you are performing well when you are on last," reveals Beth.
Over her gymnastic career Beth became Britain's greatest ever female gymnast.
She is an Olympic Bronze medallist, a triple World Champion, a 6 time European Champion, a Commonwealth champion and a seven-time consecutive national champion.  In 2002, she helped Britain place 6th in the European Championships. Winning Bronze on uneven bars, hers was the first medal ever won by a female British gymnast at the European Championships. Ten years later at the Olympics in London she won her Olympic medal.
"It was fantastic winning a medal in London. There is nothing like a home crowd cheering you on. I had been working very hard to get a medal four years earlier in Beijing and placed fourth. When you have those disappointments in your career you have to dust yourself down, put it behind you and get back to work on the next opportunity. Persistence and dedication gets you there even with setbacks that you can't control like unexpected injuries," Beth tells us.
Beth retired from the world of elite gymnastics in 2013 to pursue other interests. During her gymnastic career she always had an eye on her future. "Gymnasts retire from competing relatively early in life. At an elite level you can't avoid injuries and some can be bad enough to end your career prematurely. I've always believed that education is important as it provides the basis to build a career or change your career path. That's why I studied for a degree in Sports Science at Liverpool John Moores University and graduated in 2007."
Beth now owns and runs Beth Tweddle Gymnastics. As a Director of the business she applied the skills she learnt to creating the business with her business partner Steve Parry. "Steve invited me to look at developing a company that would give children a taste of gymnastics. He had created a similar business encouraging children to try swimming. Beth Tweddle Gymnastics started as academies, effectively community classes in leisure centres. Now we have grown with three dedicated centres in Bolton, Widnes and Mansfield and academies across Cheshire and Merseyside," says Beth.
Throughout our after-school classes we currently teach around 5000 children a week. Beth Tweddle Gymnastics also helps schools incorporate gymnastics into the national curriculum. "My dream is for every child to have a go at gymnastics," enthuses Beth.
Beth complements her gymnastics business with television appearances. You may have also seen her Judging on Junior Master Chef or Dancing on Ice where she won the series with her dance partner Daniel Whiston. "I love the presenting work surrounding gymnastics and I'm looking forward to doing that at the World Championships. You learn such a lot on the job from the presenting team, so you improve your presenting skills every time you do it."
Beth will be at the World Gymnastics Championships with her company in the Fun Zone. She'll also be presenting for the BBC as part of their coverage of the event.