"WE'VE ALL WORKED HARD THROUGHOUT THE WHOLE APPRENTICESHIP SO WHY NOT TAKE THE OPPORTUNITY TO CELEBRATE IT?"
Estimated Reading Time:
3
minutes
Yesterday (7th March 2019) saw St George's Hall, Liverpool play host to the Liverpool City Region Apprenticeship Graduation Ceremony.
The prestigious ceremony, supported by the Liverpool City Region Combined Authority, is organised and promoted to celebrate the achievements of committed apprentices from across the City Region, who have successfully completed their apprenticeships during the 2017/2018 academic year.
The Liverpool City Region Apprenticeship Graduation 2019 gave apprentices from the six Liverpool City Region boroughs; Halton, Knowsley, Liverpool, Sefton, St Helens and Wirral, the same recognition that university students receive upon the completion of a degree. The event recognised and rewarded the success of apprentices and by doing so, help raise the profile and quality of apprenticeships across the City Region.

Liverpool City Region Metro Mayor Steve Rotheram who opened the ceremony said:
"I want to create an eco-system that attracts high quality and highly paid jobs that graduates can move into when they are ready to progress. Apprenticeships are absolutely integral to the economic and social ambitions that I have for our City Region.
"I will always be a champion for apprentices, for what they're doing and for the next generation coming in to them."
BBC Masterchef celebrity and former co-founder of award-winning social enterprise Out of The Dark Jay Blades who was actively engaged in the ceremony throughout the day later added:
"Nothing like this ever took place when I was an apprentice, it's been great!
"My perception of apprentices, and I think this is a view shared by a lot of people, has always been that they're young people. However, that clearly isn't the case as seen today, I never knew there was no age limit to being an apprentice, that's what has blown me away today."
Nothing like this ever took place when I was an apprentice, it's been great!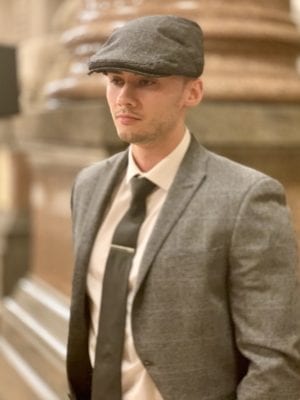 Liverpool City Region Apprenticeship Hub Chair Siobhan Saunders added:
"Doing a job every day can be hard enough but to then undertake an apprenticeship qualification and the additional work and commitment that comes with that makes it all the more important to host ceremonies such as today to celebrate that level of achievement and commitment.
"Today we've seen apprentices graduate from so many different sectors, working and studying at so many levels and all of that across a wide range of ages as well. It shows the diversity and wide range of apprenticeships available for people now, it's great."
Amongst the graduates in attendance was Jack Parker, 21 from St Helens who has recently completed his second apprenticeship at St Helens Chamber of Commerce, this time a Level 3 Business Administration qualification.
"I've never been to anywhere as nice as St George's Hall so it's really impressive to see the venue that this is taking place at. It's great to come along to a formal ceremony like this as we've all worked hard throughout the whole apprenticeship so why not take the opportunity to celebrate it?"