BUSINESSES RECOGNISE GREEN SKILLS SHORTAGE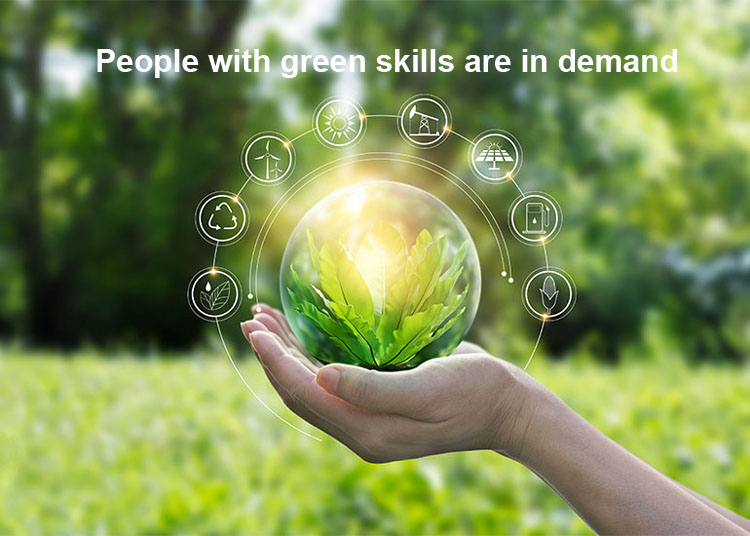 November 8, 2023
Add to Bookmarks
While there is a desire to work in the green sector, business leaders are identifying skills shortages. .
Estimated Reading Time:
3
minutes
Over 67% of business leaders in a poll of over 500 businesses say there is a shortage of green skills. In the same poll 57% of business leaders believe that specialised green skills are important for the future of their business. We take closer look at the trends.
Global recruitment firm, Michael Page, part of the Page Group, has commissioned a report on green skills.
It follows a previous poll of 2,000 employed adults about their career choices. They found that 27% were considering a green job as their next career move. A further 47% were thinking about switching to a green job, particularly considering work in the renewable energy sector. The majority of the people interviewed (73%) said they had started exploring green opportunities in just the last two years.
While there is a desire to work in the green sector, business leaders are identifying skills shortages. Companies are finding it difficult to recruit skilled people in many of the green sectors, but especially in sustainable engineering and finance. Twenty seven percent of the business leaders said they were actively identifying opportunities and anticipating future business needs. Interestingly, 26% said they were investing in professional training to upskill and prepare their existing workforce. Twenty three percent said they were offering more on-the-job training and apprenticeships to plug the skills gap.
The awareness of the importance of climate change is becoming a key attribute as Climate change makes its way into the values and culture of companies.
55% of the business decision-makers interviewed said it's important that new staff demonstrate their consciousness about climate change. This cultural change is also reflected by potential employees, with 49% wanting a job that 'impacted positively on the planet'. A further 365 recognised the future potential of a green job saying that they wanted to future-proof their careers.
Joanna Bonnett, Head of Sustainability at Page Group, highlighted the skills shortage and the need for training to meet future skills needs
"We're not surprised to learn that so many workers view green industries as a critical career move. While this is great news, nearly half of those considering a green job do not believe they have the right skills to do so. To ensure the UK succeeds in its green transition efforts, it's crucial for policymakers, businesses, and educational organisations to collaborate and invest in properly preparing the workforce. Doing so will create a pipeline of talent that is ready for the jobs of the future and tackle the green skills shortage, which, if not addressed, could drastically slow down net zero efforts," she explained.
A Skills for a Jobs Transition report from the Future Energy Skills Programme has laid out a 50-point plan designed to create the skills and careers the UK needs in the green sector. The report also calls for a properly funded and more flexible education system. It wants to see new qualifications developed around emerging low-carbon technologies. It also suggests vocational training, particularly apprenticeships, is needed to improve green skills.