Being a Be More Ambassador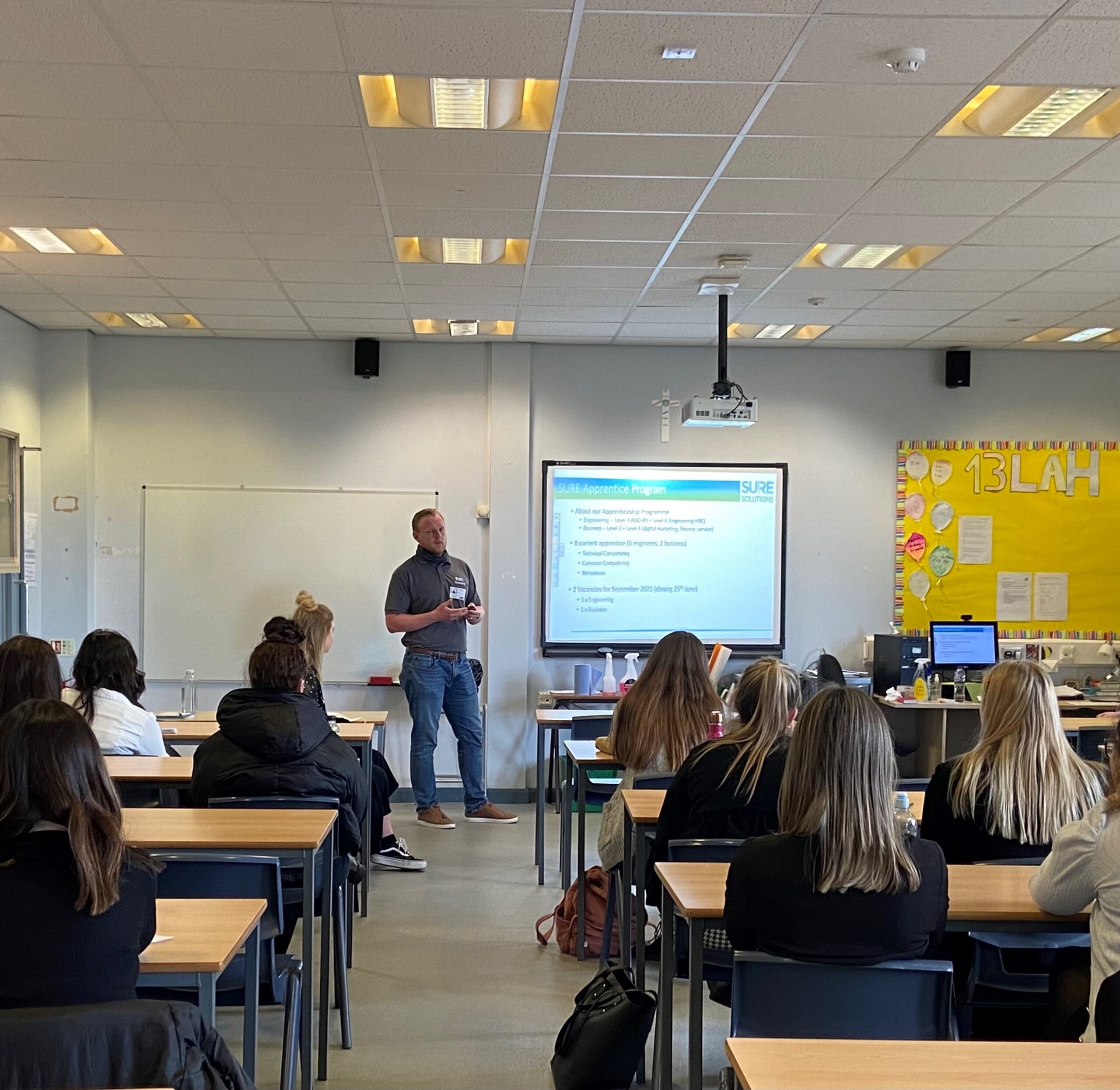 Estimated Reading Time:
3
minutes
Recent Be More Ambassador SURE Solutions is an apprentice centric organisation. When they learnt about Apprenticeship Support by Be More, they became ambassadors within just 4 weeks. Why? We discuss the benefits this bring to their organisation and the apprentices within it.
SURE Solutions are a leading company in industrial refrigeration. Keeping things cool requires high quality, technical engineering. Customers turn to SURE Solutions when they need quality, innovation and reliable energy efficient refrigeration equipment. Their company in Birkenhead is growing as a result of their forward thinking and their approach to ensuring they recruit the best people for every role in their company. They mould and develop their employees using apprenticeships to build and hone the skills they need.
Craig Shaw is their Operations Director and he is clear about the benefits SURE Solutions and their Apprentices gain from being a Be More Ambassador. "We became Be More Ambassadors quite quickly after engaging with the Be More programme. Over 85% of our team started as apprentices somewhere and we are committed as an organisation to the development of people. The process to become an Ambassador for the Apprenticeship Support by Be More Team was quick and easy. The benefits are significant. The first is the ability to share best practice and information with other like-minded organisations both big and small. Access to information through the Ambassador network on issues such as growth funded is also valuable," comments Craig.
Two other benefits motivated Craig to sign up SURE Solutions as an Ambassador. "We are given the opportunity to provide feedback to help shape the future apprenticeship agenda. A recent example is our discussions with local Councillors on the structure of apprenticeships and their funding. This was arranged through the Ambassador network when the Growth Platform were looking for local companies to participate. This opportunity allowed us to share an employer's perspective that can inform more effective future decisions for the Liverpool City Region," says Craig.
The other exciting benefit is the promotion of apprenticeships to new young talent. "As an Ambassador, not only is there an employer Ambassador, each has an Apprentice Ambassador. Olivia Sherlock is our apprentice Ambassador. She and I have been joining the Apprentice Support by Be More Team to promote apprenticeships to schools. The engineering sector is male dominated and a recent visit to Upton Hall School, a girls' school, provided a great opportunity to discuss apprenticeships in engineering and bust many myths. Success with year 12 pupils came in a feedback comment suggesting one of them was swapping from surveying to refrigeration. For our Apprentice Ambassador the experience builds a great skill set from building and delivering professional presentations to the confidence to answer questions in front of an audience of 15 year old pupils," reflects Craig.
While open to all companies looking to recruit apprentices in the Liverpool City Region, SURE Solutions has also found the Be More website effective at attracting candidates for their new apprenticeship vacancies. "Part of our successful growth plan includes a pipeline of apprentices that we then develop further with a structured career path. For example our recent apprenticeship will commence on a business apprenticeship and then progress to procurement and supply through a four year programme as they progress through the company," concludes Craig.
If you are interested in becoming an apprentice, learning more about apprenticeships, or becoming a Be More Ambassador, you can register your interest here and a member of the team will get back to you.