Will you Be More in 2021?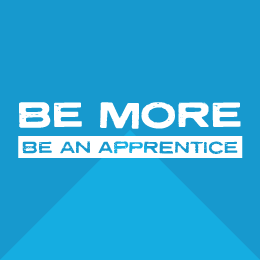 Estimated Reading Time:
4
minutes
Have you heard of the Clash? If you fancy listening to some classic punk rock then grab the album by the same name and try the track 'Career Opportunities.' It reflected unemployment in 1977 and the struggle to embark on a meaningful career. Hip Hop was not a thing at the time, so one of my favourite lines 'Do you want to make tea at the BBC?' wasn't about being a journalist.
In 2020 we found ourselves facing similar uncertainties as factors beyond our apparent control changed things we thought were everyday happenings and took them for granted. Now we are in 2021 and can begin to look forward to opportunities as we begin to: build the economy; create jobs; build careers; learn new things and prosper.
We believe 2021 is the time to think about what you want to be and how to make that happen. The Apprenticeship Support Team by Be More are likely to be busier than normal this January. Why? Well they don't just advertise jobs on the Be More site, they help companies and training providers come together, so everyone prospers. Companies get quality people that can help them develop new world-beating propositions. Training providers help build theoretical and practical skill sets. Apprentices get to earn while they learn, building skills and getting qualifications more often than not with a job at the end of it.
Apprenticeships have something for everyone. If you're a potential apprentice then check out the Be-more site to see whether there is an apprenticeship for you and who might offer that in the Liverpool region. Go to the Be More site or call the Apprenticeship Support team. You would be amazed at the variety of apprenticeships on offer. It's not all plumbing and decorating. If you think it's just making tea too, then you need to think again. Some of these apprenticeships mean going to University as well as learning in the work place.
Perhaps you are a business owner or maybe you want to start your own business. Have you got an idea that could see you at the head of a unicorn company by Christmas? Companies today are working smarter and harnessing new technologies to deliver products and services competitively. Apprenticeships in digital technologies continue to grow from hosting virtual events to provisioning fibre infrastructure and delivering digital marketing strategies. Even before the Coronavirus struck, investing in digital skills was really important, but it's an even bigger priority now. The economic shock of the pandemic will continue to be felt for a long time to come and will radically change the nature of work. We know that local employers are already crying out for people with these skills. Artificial intelligence, augmented and virtual reality bring opportunities in many sectors from healthcare to the changing face of retail. Companies with an eye on growing rapidly are looking for fresh talent, building new skills through apprenticeships and also training with apprenticeships internally to plug skills gaps and succession plan.
Where will the success stories of 2021 come from? The world is changing and climate change is likely to be a growing sector. Offshore renewable energy is a growth sector as are electric vehicles and associated charging infrastructure. Organisations' plans to be carbon neutral combined with net zero targets will drive opportunities in this sector.
You may want to be in healthcare. In the last financial year alone, the Innovation Agency supported 343 companies, resulting in the creation of 112 jobs across the Liverpool City region. Lee Omar, founder and CEO of Safe Steps, the Liverpool-based digital tool for assessing the risk of falls, said: "In the past year we have taken on three additional staff and signed contracts worth £360,000 with healthcare organisations – the Innovation Agency's help has been invaluable."
Liverpool has always had a strong reputation in the visitor economy sector and 2021 will see that grow again as people will want to visit and party. Again digital technology combined with traditional experiences will enhance attractions.
What will you be this Year? Whatever you decide, the opportunities are there. Apprenticeship Support by Be-more has your back. It's time to start dreaming and then making those dreams come true. I bet you've heard of Eminem, so in the closing words of his 2002 hit 'Lose yourself', just remember 'You can do anything you set your mind to.' Oh, and Apprenticeship Support by Be More is here to help you make it happen.