THE CAREERS OF FAMOUS PEOPLE FROM LIVERPOOL: GEORGE HARRISON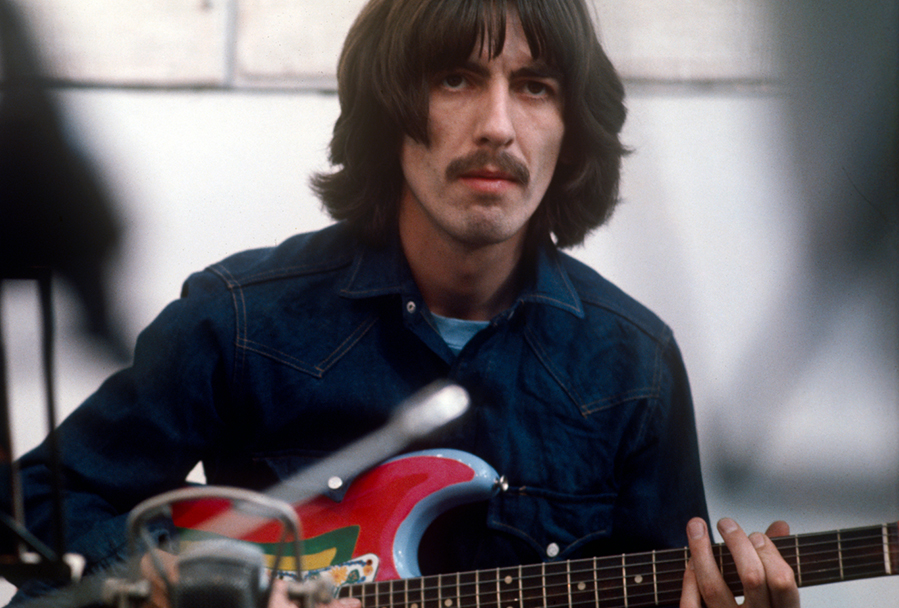 October 12, 2022
Add to Bookmarks
This article takes a look at the career of George Harrison. It shows you how a career can progress with a little imagination, some talent, a great deal of persistence and an opportunistic outlook…
Estimated Reading Time:
4
minutes
We take a look at famous people who began their career in Liverpool. While they may not have gained fame using their original training the soft skills and hands on training regime helped ensure their success. This article takes a look at the career of George Harrison. It shows you how a career can progress with a little imagination, some talent, a great deal of persistence and an opportunistic outlook. While it's an interesting career, I hope it inspires your own career journey on the long and winding road to success.
If you've grown up in the Liverpool City Region, George Harrison probably needs little introduction. Most of you will know him as one of The Beatles. However he had an interesting career in music and film production. He was also the founder of the fundraiser rock concert concept, way before Bob Geldof's Live Aid.
George Harrison was born at 12, Arnold Grove, Wavertree, Liverpool on 25 February 1943. He passed the eleven-plus exam and attended Liverpool Institute High School for Boys from 1954 to 1959. This is significant because on the bus to school he met Paul McCartney and they bonded over their shared love of music. He joined the skiffle group called the Quarrymen with Paul and John Lennon that then became the Beatles. In March 1958, Harrison left school at 16 and worked as an apprentice electrician at Blacklers. On the corner of Elliot Street and Charlotte Street, Blacklers was one of the biggest local department stores in the country. When Brian Epstein became the Beatles manager in December 1961 he secured them a recording contract with EMI. The group's first single, "Love Me Do", reached number 17 in the charts. By the time their debut album Please Please Me was released, in early 1963, Beatlemania had arrived.
George loved the guitar even before he could play or owned one. His father bought him a Dutch Egmond Toledo 105/0 flat-top acoustic guitar in 1956. A fan of skiffle legend Lonnie Donegan's music, George formed a skiffle group called the Rebels, with his brother and a friend. George had just turned 15 when he joined The Quarrymen. He was only 27 years old when the Beatles disbanded. Throughout his life, he mastered playing 26 different instruments from bass guitar to the more exotic tamboura, marimba and Jal-Tarang.
George embraced Indian culture and helped broaden the scope of popular music through his incorporation of Indian instrumentation and Hindu-aligned spirituality in the Beatles' work. Most Beatles albums from 1965 onwards contained at least two Harrison compositions. His songs include "Taxman", "Within You Without You", "While My Guitar Gently Weeps", "Here Comes the Sun" and "Something".
George founded the concept of the megastar charity and fundraiser rock concert. In 1971 he organised the Concert for Bangladesh at Madison Square Garden, with Indian sitar Player Ravi Shankar. He invited massive names to come and play to raise money. Eric Clapton, Bob Dylan, Ringo Starr, Billy Preston, Badfinger and more took part. Profits from sales of the film and soundtrack of the concert continue to benefit the George Harrison Fund for UNICEF.
In his role as a music and film producer, George produced acts signed to the Beatles' Apple record label before founding Dark Horse Records in 1974. In 1978, he co-founded film production company Handmade Films to finance the Monty Python classic The Life of Brian. "Because I liked the script and I wanted to see the movie," he explained. He re-mortgaged his house to pay for the film when original investors EMI pulled out just a week before filming. Handmade Films went on to make Withnail & I, Mona Lisa, and many more. Remember Lock, Stock and Two Smoking Barrels?
George Harrison released several best-selling singles and albums as a solo performer. In 1988, he co-founded the platinum-selling supergroup the Traveling Wilburys with Jeff Lynne, Roy Orbison, Bob Dylan and Tom Petty.
George Harrison died on 29th November 2001. His final album, Brainwashed (2002), was released posthumously after being completed by his son, Dhani and Jeff Lynne.