MUSIC INDUSTRY CAREERS YOU MAY NOT HAVE THOUGHT OF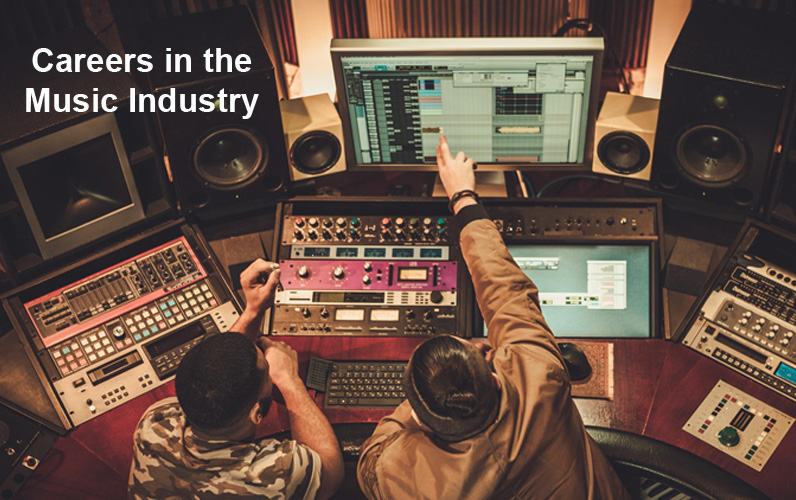 February 13, 2023
Add to Bookmarks
So how do you qualify for these jobs in the music industry?
Estimated Reading Time:
4
minutes
The Liverpool City Region has a rich musical history. The Merseybeat sound in the 1960's established it's international reputation. In the 1980's, Frankie goes to Hollywood ruled the charts while in the 90's Cast and Space produce fabulous albums. In the naughties who can forget Mel C, Atomic Kitten and The Coral? If you're keen to work in the music industry, but can't sing, write or play an instrument this is the article for you. Here are a multitude of jobs that you may never have thought about that keep the music industry alive.
The music industry is exciting and has many different sides to it. The opportunities to work in the sector are huge without needing any musical talent. Let's just think about that for a moment. How does the music industry work? A budding artist needs to record a hit record. So the first thing they need is recording studio time. While some may try record something in their back bedroom and upload it to streaming services like Spotify, a recording studio brings real benefits to improving success. You won't be surprised to know that there are a host of recording studios across the Liverpool City Region, some working with big names. Music studios offer pre-production and demo tracking, mixing and mastering. Some may offer rehearsing space, instrument rental, and session players.
To be a successful artist they need to be backed by a label that will help generate exposure and revenue for them. A label is effectively an organisation of business management and marketing specialists. They will publish the music and maximise its distribution. Think video, streaming, radio and live events. Companies such as Liverpool's Ditto music began life in 2006 as distributors of indie music helping artists like Ed Sheeran and Stormzy become prolific across platforms such as Spotify, Apple Music, Deezer, Amazon, TikTok, Instagram, Vevo, Pandora and more. They are now one of the world's leading music distribution, record label services and artist management companies, supporting over 200,000 independent artists and labels across the globe.
Over 50% of all music industry revenue is live performance related. There is a whole section of the music industry surrounding tours, festivals and concerts. Careers in event management from organising the sort of events that Liverpool Sound City organise each year profiling new artists to events companies like Core Entertainment providing bespoke live entertainment for events. Production Managers and Event Managers play key roles in the planning and delivery of festivals, concerts and tours. Think staging, rigging, audio visual, event promotion and more.
So how do you qualify for these jobs in the music industry? There are specialist training providers that offer courses. Liverpool based SAE Institute offers a degree course in Music Business that provides a comprehensive education in labels, publishing, management, touring, distribution, and live event management. Another specialist is Pointblank. They have been providing music production, sound engineering, DJing, vocal performance, music industry, radio and audio courses since 1996. They have also been delivering degree courses online and in their state-of-the-art campuses since 2016. They boast expert lecturers and first class industry connections for over two decades, working with artists such as Pharrell Williams, Beyonce, Gwen Stefani, and Rihanna. They also pride themselves on global alumni that include Leona Lewis, Goldie, Claude VonStroke and Madame X. Their students have gone on to work at high-profile record labels such as Decca Records and Adele' label, September Management.
If you are looking for a career in the music industry in Liverpool there are lots of options open to you without a need to be a talented singer, rapper, or musician. Music studios, events companies, and associated professions from marketing and design to video production are all options. There are even careers to be made in property management. For example, CERT, a property investment, development and management company, manages Elevator Studios, a 24/7 tech hub in the centre of Liverpool. The vibrant mixed-used building is home to a wide range of companies with over 70 thriving music, gaming, retail and hospitality businesses, from session rooms for bands, to intimate creative studios and large, open-plan workspaces for growing commercial clients looking for a thriving collaborative community. This highly creative space has become a mecca for music and tech talent, attracting: renowned bands across all genres; famous floor filling DJs; gaming companies releasing top titles; software companies designing the future with virtual reality and artificial intelligence; top TV producers; inspirational podcasters; artists; photographers and artisans.
If you love music and would like to work in this exciting industry, it's time to explore the vast range of career paths open to you. In a few years' time you might be stage manager for a rock group or designing the artwork for a major tour.